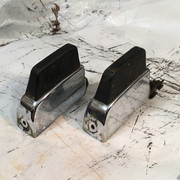 For sale I have a pair of secondhand under riders as fitted to Dolomites and Sprint to 1976.
These are in good useable condition.
The price including postage to any UK address is £25 for payment by cheque or bank transfer.
If you really really must use Paypal the price is £30.
Please PM if interested.
TDC members only.
thanks
Ian.
_________________
TDC Forum moderator
PLEASE
help us to maintain a friendly forum,
either PM or use Report Post if you see anything you are unhappy with. Thanks.