After eventually removing the starter motor which is what I originally thought was jamming the engine, I put a spanner on the alternator and tried to turn the engine but it was still stuck solid. So I the again tried rocking the car back and forth ( with the other half helping

) but still jammed solid.
So I bit the bullet and whipped off the head and that seemed to do the trick, the crank now moves freely but I don't want to put it all back together until I'm sure about what caused it.I'm starting to think timing chain ?
Also I have some numbers stamped on the pistons,if someone could explain what they mean it be a great help and a strange nut on the exhaust manifold any ideas please thanks
Tom
Attachment: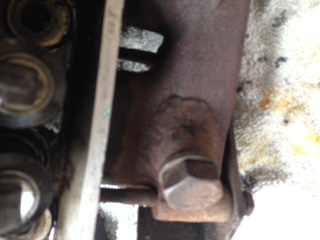 IMG_0369.JPG [ 28.11 KiB | Viewed 1434 times ]