Quote:
The Haynes manual states "Ensure that the white/black wire goes to the negative - terminal of the coil and the white/yellow to the positive + terminal."
On my car the wire from the distributer is black and this goes to the - negative terminal on the coil which also has what with what I believe is slate marker. The positive terminal of the coil has a white with yellow marker plus a cable from a cylinder shaped suppressor to stop radio interference.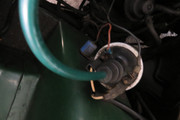 Yes, this is what I'd expect. Good job you didn't try starting the car with the grey wire and the black wire to the points both on the positive terminal.
Now I've seen this type of aluminium box with 2 wires coming out used with the very upmarket stereo systems of the 70's. Specifically Blaupunkt. You will probably find " Blaupunkt " engraved on the case if so. It is an in-line interference suppressor choke and is usually used with an interference reducing capacitor fitted from the coil positive to chassis via a self-tapping screw.
And its quite correct that Yellow / white is the supply input and the grey wire goes to the + on the coil.
Did you have a new ballasted type coil fitted ?
The white / slate grey wire goes to the rev; counter btw.
Tony.