Quote:
I never saw your reply Alun, same day I posted as well! Must thank the person after the boot badge for reminding me though.
This is the current badge, not sure if it's the right one or not for a 1975 car but flat and not italicised.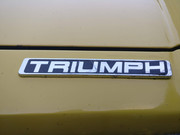 That's a boot badge foil, cut down to fit a front badge chrome bit!
This is what it SHOULD look like (this one is unfortunately sold)
Steve