Quote:
Hiya!
Many thanks to you Shaun. Do you think couriers would be prepared to transport glass from Belgium? I'm beginning to wonder if it's an option.
I'm pleased that we will have screens in the future, but as you said, only a shame my windscreen couldn't have held out a little longer. What do you reckon, just keep using it until then maybe?!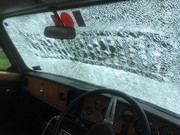 Glass items are on either the restricted or prohibited items list of all couriers, meaning if they accept the item it won't be covered by insurance unless you can negotiate special a deal.
What specification are you looking to replace it with?