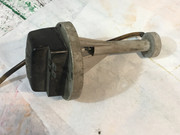 For sale I have an early Sprint washer pump assembly (I guess it was also used on other models too?).
Having connected it up to a battery I can confirm that it does work
(Some time ago, I replied to a wanted ad on Facebook confirming its operation by posting a video,
to which the OP eventually said he wanted it but has failed to come through with payment

)
Price including delivery to any UK address is £24 for payment by cheque or bank transfer.
If you really really must use Paypal the price is £30.
TDC members only.
Please PM if interested.
thanks,
Ian.
_________________
TDC Forum moderator
PLEASE
help us to maintain a friendly forum,
either PM or use Report Post if you see anything you are unhappy with. Thanks.