I will be stripping the mechanical parts from this low mileage 1500HL in a few weeks time to do an engine swap, so everything is up for sale.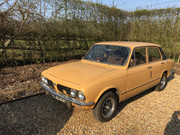 The engine has only done forty-odd thousand miles but it did get hot when I last ran it during the Summer, so it will need inspecting but I am happy to give it to someone FOC for a re-build.
The gearbox is good.
The rear axle is good, it has a slight pinion seal oil leak but has manually adjusting brakes and has just been fitted with new wheel cylinders and shoes.
Other parts available from the car include the subframe, prop-shaft, radiator, carbs and inlet manifold, exhaust manifold and downpipe, distributor, starter motor, alternator, brake master cylinder, some front suspension components and a good set of rear springs and shock-absorbers.
I also have a pair of new self adjusting rear wheel cylinders, 2 x new sets of self adjusting rear shoes, a pair of reproduction HS4 carbs from the 1990s with the black plain type jets, some new aerosol cans of Sandglow and a pair of 7" halogen headlamps with H4 bulbs (bought for a Midget but I notice that a few people have fitted these to the square headlight models).
If there is anything else that I haven't listed, just ask.
All parts will be going cheap to fellow enthusiasts and I am happy to post the smaller items at cost.