As part of my recent starter motor refurbishment I managed to source some new starter solenoid caps to fit the starter/solenoid on the 1850
It's early days, but the replacement seems to work fine. I bought a few spares, so I'm happy to offer them out at cost to anyone who needs one.
£7.25 plus postage.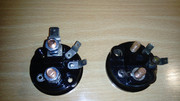 New on left, old on right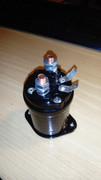 The caps come with all the contacts, spring, sealing ring etc. The new ones have an extra blade contact on the main screw posts, but that's easily removed to make them as original.
Or if you want to go direct to the supplier they are Wood Auto's in Huddersfield and their P/N is SNC1515 (WOOSNC1515)
https://www.woodauto.com/product/SNC1515
(although they seem to be out of stock at the moment)