Last week saw the start of the replacement of the cills. I decided to farm this out as I want to ensure they are as sound as possible. I employed the services of a mobile welder - Scott M Motors.
https://classiccarmobilewelding.co.uk/
Scott came along and spent two days removing the old o/s cill, fabricating the lower part of the inner reinforcer panel and preparing and welding in new inner and outer cills.
The old inner and outer cill was totally shot. The outer had been replaced at somepoint, however with no cavity protection or drain holes evident hasn't lasted. The removal of the outer took no more than a good tug - it was just tacked on with a few tack welds all of poor penetration - 'may as well be stuck on with blu tac' exclaimed Scott!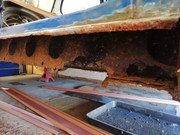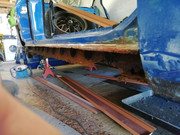 With the outer and inner cut out, the inner reinforcer could be seen. Again, in pretty poor condition mainly at each end and along the lower 1-2 inches. This rot was cut out and a new piece welded along the lower length.
Scott then proceeded to clean up and then get cracking with the welding - after he had trial fitted them with the doors back on. His welding skills are excellent and I am glad to have a good strong cill. My only slight gripe is the rear door where the gap isn't too uniform with the top edge of the cill - I did read that James had had to cut some slits in one of his cills to overcome this - we should have done the same. I may be able to adjust the door to overcome this.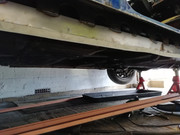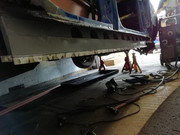 He will return in October to do the nearside - he is very busy. I did no preparation for the o/s as he wanted to see it in its original state, however now we know what can be removed and cleaned up in preparation I will make sure this is done before he returns.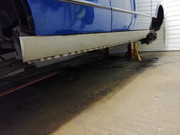 Scott was very impressed with the club cills - nice one Alun!
As a little change from metalwork, I decided I would refurbish the rear numberplate. SWU still retains the original Unipart plates, however the yellow reflective backing on the rear was chipped and flaking off in places. I obtained some new material from my local motor factor, so removed the digits carefully and stripped off the old material using a heat gun and scraper. I gave the aluminium mounting plate a good clean up and polish with Autosol before applying a spray adhesive to the material and plate. It has come up really nicely having refitted the digits with new starlock washers behind.
Next job will be to tackle some grot in the offside front wheelarch...after a family holiday!