Another little job i've been putting off forever!
The N/S/F wing is one salvaged from the Carledo when I went GRP and is near perfect except for a slight metal deficiency where it meets the valance.
I've actually GOT a lower front wing corner salvaged from another wing, but thought it a waste to use it for so small a repair and decided to make a repair section from scratch.
This turned out to be one of the most complex and difficult bits of fabrication I think i've ever done. It's ALL compound curves and nothing short of absolute accuracy in shape and fit will suffice!
I used the spare corner as a pattern and made it in 2 pieces cut from the lump of bonnet I removed to fit the bulge, that gave me the right thickness of steel. First I made a pattern of the fitting edge and cut that out. Then I ROLLED the corner across the sheet drawing round the edge as I went to form a sort of Banana shape for the outer section which, once moulded round the spare corner and clamped, made it the right shape. Then I joined the 2 together, whilst still clamped, with a handful of tacks, removed it from the pattern and welded it together fully.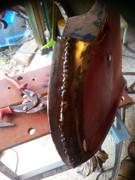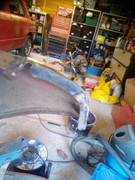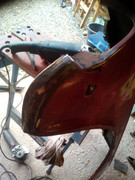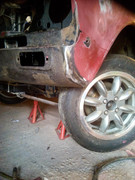 After that it was just a case of carefully getting it into just the right place! Still took me most of a day to make and fit but I did it on the first try, which is something I aim for and take pleasure from achieving! It means i've thought it out properly in the first place!
Steve