Cheers guys. Thanks matt for the advice on steering rack mounts - had a quick look under the car today and looks like I should at least be able to do one with ease.
Bit of an update as i've got lots done today!
Firstly, a complete success I'd say, the car now has an anti-roll bar fitted! I bought a fairly rusty looking one off ebay, sourced the sleeves, bought new hardware and then got the brackets and bar itself sand blasted and powder coated.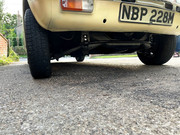 I did reuse the rubber bushes that came with the ARB so will need to change those at some point as they're a bit perished, but that should be easy enough when the time comes for it. will probably buy some new end links as they are a bit old too, but if i'm honest i'm not in any rush. Here is a closer up pic: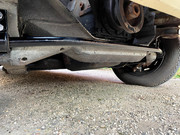 Next up, changed the headlight over from the sealed beam unit to halogen. Both sides are a bit dim, so I might get some better bulbs to stick in now I have the option of actually replacing them. I didn't really pull the headlight unit off but suspect there is going to be some rust underneath, may be a job to get on with before it's too late: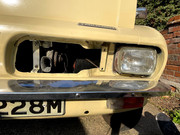 Finally, I did have a go at fitting the pre-engaged M35J in place of the previous inertia starter, and on first attempt I left out these spacers: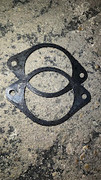 This didn't work that well, and although it started the car I could immediately hear metal-on-metal action so took the starter off and threw the spacers in.
The car now starts every time, and no more metal on metal noise. There are a couple of issues still however:
- The starter relay is still present, I plan to bypass this and take it off
- When cranking, there is a loud noise, almost sounds like its squeaking. This could either be partly the issue above with dodgy contacts to the relay, or it could just be differences in the flywheel ring gear. I'm not sure if it's dangerous, but if it goes wrong I always have the option of returning to the inertia starter. I have a new ring gear to go on so although it sounds reckless I don't care too much if either component (starter motor or ring gear) gets damaged.
Next up on the list I may start tackling some of the rear bushes, though not with any urgency. I still need to do the steering coupling rebuild and the rack mounts. Other things I might keep an eye out for are a laminated front windscreen and possibly an electric fan to replace the viscous coupled one, though the car doesn't overheat as it stands, just want to tidy up the bay (and free a few ponies from the drag of the fan!)