How long ago was this work done? The paintwork, early 1990's.
Photobucket - does that mean I have invent another password which I know I will promptly forget and then loose my photos somewhere in the ether? I know I am loosing my marbles but loosing my photos too, I am not sure I could cope!!
Anyway back to the project for I am trying to bring things up to date.
Some work did continue in the 1990's period.
The family visited Sydney, Australia in 1994 and i met with the Philip and Mark of Sprintparts. Very helpful lads who continue to support Dolomite owners down under here. Some parts were purchased and added to the now growing meccano like collection. Correspondence was maintained with those running the Dolomite Sprint Register which merged into the TDC as it is now today. Sometime about then I had a visitor from the UK who had picked up my details from magazine. He was out here on business. It was a delight to host someone with a common interest.
And I met with others locally who owned or who had previously owned a Sprint. This was often to my advantage for invariably the conversation would lead to a point where a comment would be made along the lines of "in fact I think that I still have some spare parts somewhere……" A visit to the garage would be made and a spare taillight assembly or clutch would be purchased.
I was given the name of a fellow, Alwin, living south from here, in Oamaru who had rallied cars some years before and who had purchased a Sprint which had been rallied. I contacted him, the car had gone, but there were a whole lot of parts sitting "somewhere". A visit was made and a whole hoard of parts emerged. I remember scratching my head and wondering out loud where I would put the spare block and the new crankshaft and all the other bits and pieces when he pointed me towards a 2.5PI station wagon sitting in the back of his shed. I had owned two PI's previously and recognised that this station wagon, a manual overdrive model, was a rare beast in its own right.
Attachment: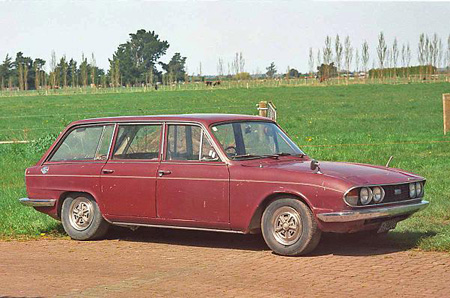 199211-02Pew Triumph PI 2500 SW.jpg [ 103.18 KiB | Viewed 5379 times ]
It was purchased along with the spares.
There was a small problem, the starter motor was not fitted and nor was it registered to be driven on the road. But such matters back then were trivial and the car was tow started and I set off home. It was clear though that while this rather tired but quite rare car in its own right, was eminently restorable and possibly worth a great deal more than a restored Sprint, it would be unlikely that I would ever have both the time and the patience to do so. So once back here with all the Dolomite spares stashed away it was passed onto another Triumph enthusiast.
Then as the domestic situation changed and improved, the assembly of the car was moved out of the garage attached to the house across into a workshop which had been created in the farm shed. Now with 30 feet of clear bench space it was possible to continue with the fettling of some of the smaller items. However with the move some items were misplaced which has only become evident in the last few weeks.
Perhaps though the biggest shock was felt when the first in the series of the 13,000 earthquakes was felt here in the Canterbury region, in the early morning of the 4th of September 2010. In the series of aftershocks that day that shook the living daylights out of us all here, and which continue even as I write this, caused my restored and painted brake servo to tumble to the floor bending the rod that links to the brake pedal and breaking the Bakelite nose.
Attachment: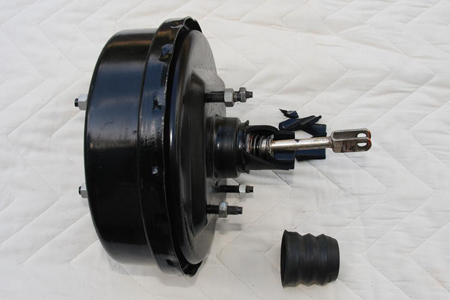 20110205-1130ew damaged Sprint servo.jpg [ 100.9 KiB | Viewed 5379 times ]
Worse I was to discover that car spares are specifically excluded from the farm and household insurance policies.
I am still on a search to find the bits necessary to restore this servo. I managed to get it apart this week but have not yet figured out how to pull all the internals apart.
That in a way has been one of the reasons to encourage me to finish the restoration for it is impossible to insure the vast meccano set it was, on that day. So those of you holding caches of spares, wherever you are, it may pay to check to ensure that your own spares (treasures??) are covered in the event of fire, flood, earthquake etc.
So to conclude, a photo of a broken brake servo, a rather rare PI wagon and a shot taken after the later February 2011 earthquake. This is to demonstrate to a certain group of UK TV presenters that even Toyota Landcruisers cannot cope with some of what nature dishes up to us. No matter that they think they might be indestructible – or can go anywhere.
Attachment: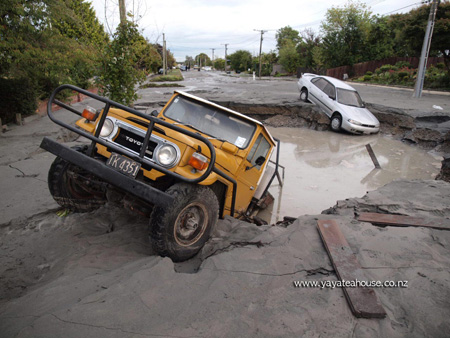 Christchurch-February-2011-Earthquake w.jpg [ 108.63 KiB | Viewed 5376 times ]
Drive it out of this hole lads!