I thought it was about time I set up a thread to cover the restoration of my 1980 Dolomite Sprint. I'll provide some background here though it may still be a while before I have more news.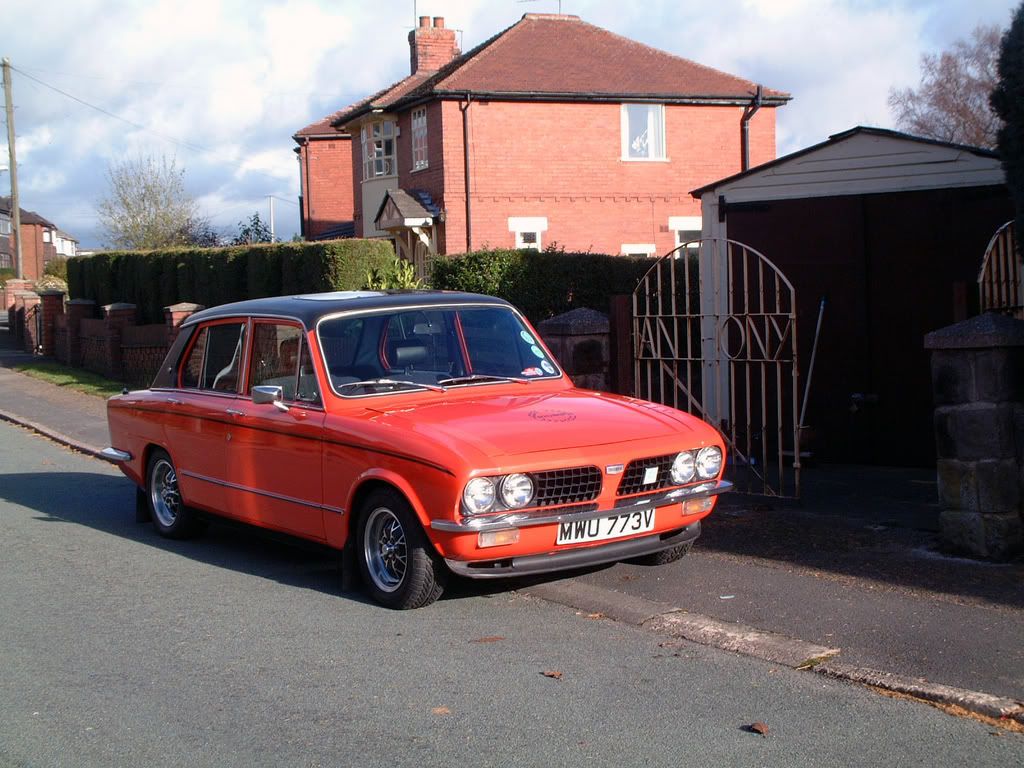 I bought MWU 773V in November 2003, attracted by the cheap price, colour and relative speed. The previous owner had spent several thousand pounds on the car at a well known West Country 'specialist' which included some new panel work and a respray. This initial restoration took place in 1996-97 after which the car was pressed into every day service until I took ownership.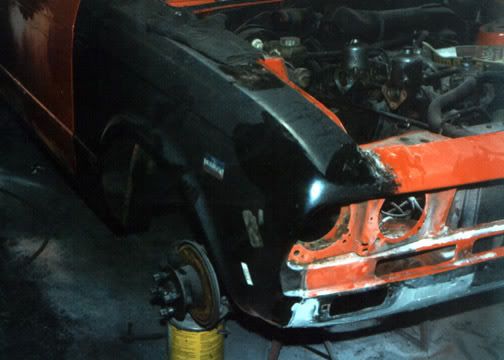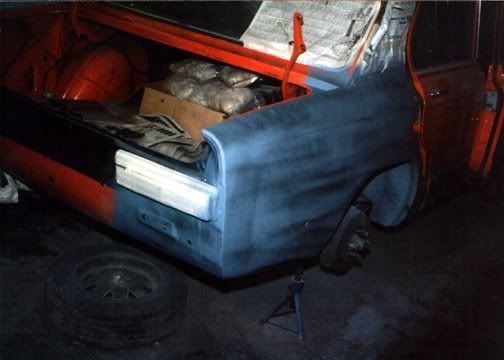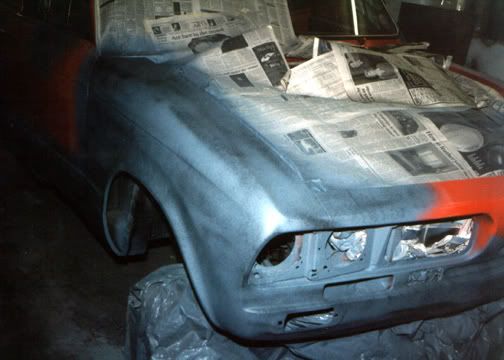 When I took delivery of the car it had a few months left on the MOT and a rather tatty passenger side sill. I decided to get this seen to and had the outer sill replaced at a place in Rugeley. I was never really that happy with the work that was carried out, the fit was wrong and they pursueded me to have it painted body coloured which is OK but not quite right.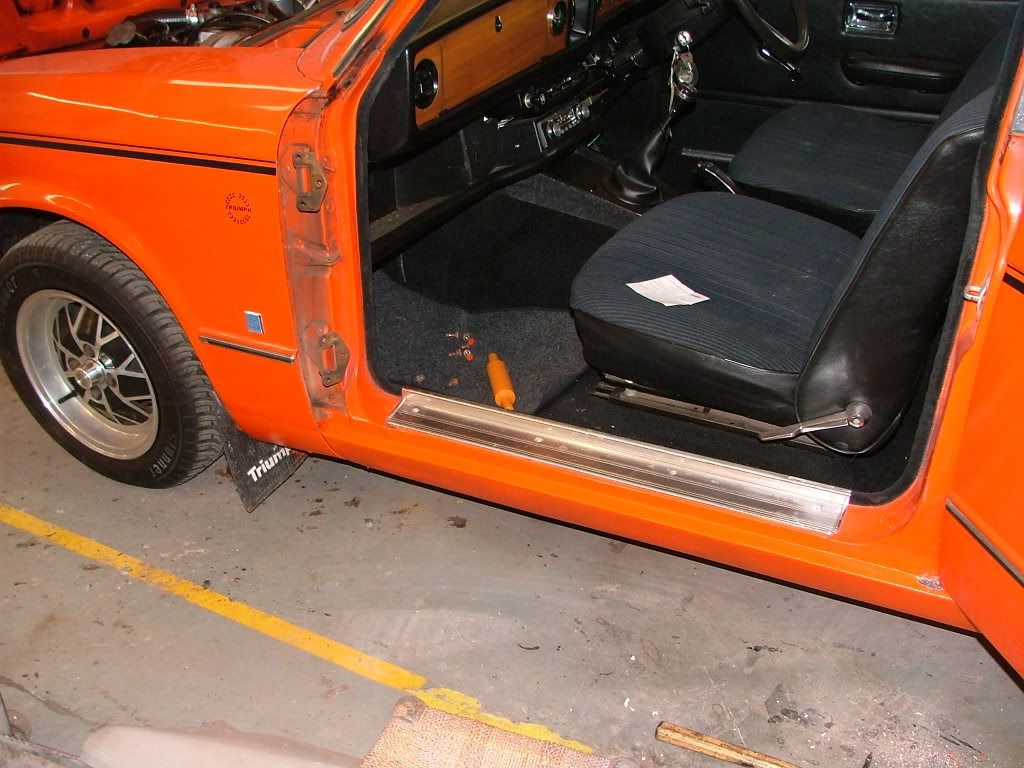 Though outwardly the car looks OK as the years have gone on it became increasingly obvious that the car was really quite tatty underneath. Holes started to appear in places like jacking points, sills, chassis legs etc. I had these patched up as best as I could afford but the car has now been off the road since 2008. I figured that it really deserved a full restoration and that it was better to wait and do the job properly rather than bodge it and have to do it again. The main areas for concern on the shell are:
Sills
- Both inner sills around the jacking points are pretty shot. Evidence of much bodgery around the drivers side on in particular. Passenger side sill reinforcer is disintegrated and is structurally questionable following the fitment of the sill in 2004 (above)
Chassis legs
- these have been patched, the mounting holes for the subframe are decidedly crusty and some muppet has squashed them with poor jacking
Headlamp mount panels
- Held in by witchcraft, needs replacing
Footwells
- passenger side is seemingly homemade, partially filler, partially biscuit tin leaving no original shape whatsoever. The drivers one is not great either and would need replacing.
Boot floor
- has a big hole in where there is a seam and also has several poor quality path repairs to it.
A pillars
- usual rust to the rain channels
Doors
- door bottoms have been replaced at some point. There's the usual BK poor fitment to the passenger side rear door and the skins on the seams are bubbling causing the paint to crack and rust.
On the plus side the wings are OK save for the joint with the front valance and also the roof is OK, well apart from the nasty pop up sunroof.
I will post some pics of the grot on the old shell at some point so you can see that appearences can be deceptive.
Having decided a full restoration was the way to go I set about collecting bits I would need. I'm no body expert or welder but it's clear that the car would need quite a few panels to remove the rot. Finding quality original panels is difficult and expensive but I was working on the principle that this would pay dividends in terms of the finished project.
My original plan was to restore the existing shell using parts collected and this was due to start this time last year but unfortunately I was made redundant and Dolomite's took a back seat. However late last year many of you will know I was fortunate enough to find and take delivery of an unused factory bodyshell. It wasn't cheap but has saved me a lot of money in welding costs not to mention total originality in terms of the structural integrety of the shell. I can also legitimately use the shell without fear of the DVLA confiscating my registration plate. Think of it as a heritage shell you'd use on an MGB.
The plan now is to use this shell to restore my Sprint. I'll be starting off my cleaning the 'new' shell. It's been stored for 30 years and has some surface rust on it. I'll almost certainly be sent to be chemically cleaned before being e-coated which will help to provide an enhanced level of rustproofing and form a good starting point to begin the preparations for painting. The shell will be painted in it's original colour, Vermillion and then the fun begins.
Mechanically the engine in the original car has always driven really well, pulling strongly and has I'm sure got a hotter than standard cam in it. The engine and gearbox will be stripped down and rebuilt. Hopefully there will be no significant problems there save a little wear in the bores. The engine is the original unit though has had new rings and a rebuilt head at some point. It has 122k miles on it. Gearbox wise it leaks, a lot and the overdrive is a bit iffy. It too will be rebuilt. Rear axle is nice and quiet but also leaks a lot.
I plan to fit a new remanufactured wiring loom to the car as it'll be easier than breaking the old car down to get to it. Fully reconditioned suspension and running gear will be fitted and a revived interior will also be fitted all using NOS parts i've been collecting for the last few years. Currently the car has lowered suspension and a sports exhaust, still deciding whether to go totally standard or whether to modify slightly and run with a slightly lowered suspension.
It'll certainly look fantastic when the project is complete and I hope for it to be considered one of the best around when it's done.
Sorry there is not much else to report right now but expect the shell to go away in the next 6 weeks or so to start it's journey from spare part to new car. I'll report back then.