In addition to fitting much of the exterior side and boot strips I've been doing some trimming work recently, not done any before.
I decided that I didn't like the standard millboard boot boards. They look nice when they're new but they get shabby quite quickly. Using my warped original boards as a pattern I cut out new panels from a new sheet of millboard. I did briefly think about buying some ready cut out but they are too expensive. I made the full set of boards including the one that mounts on the rear seat panel.
With the patterns made I then glued some van lining carpet to the board, finishing the edges by folding the material over the boards. Then it was simple a case of scoring and folding them and where necessary drilling some holes. On the reverse of the 2 side panels I stuck some additional soundproofing material as I had some spare.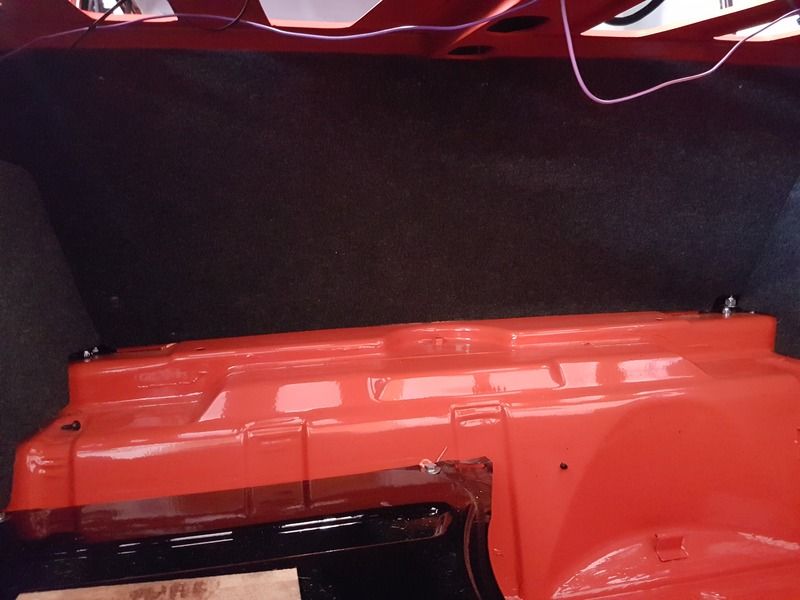 Really pleased with the end result as it's transformed the boot area and they fit really nicely. I chose anthracite carpet rather than black to make it slightly less dark, plus it doesn't show up specks as badly as black. I've currently used the hardura mat for the floor but I'm tempted to make up another panel and carpet it the same as the sides. At some point I must replace my boot hinges as something went wrong with them when the shell was at SPL and now they won't hold up on their own. I have spares but for now my trusty piece of wood will have to do!
I've also made up a new rear parcel shelf. My original had a rip in the vinyl and being hardboard was a bit thin. I also wanted to discretely mount some decent speakers so chose to use some 6mm MDF. Firstly I cut out the shape of the shelf and checked for fit. It was spot on first time. Then I drew round the apertures in the parcel shelf panel to work out where I could mount my speakers. The shape of the aperture most suitable (second one in) is very awkward and does limit the type and size speaker you can fit. I did think about mounting them underneath and be totally hidden but this does compromise the size you can fit and also the sound quality. After much deliberation I ordered a pair of black Pioneer 13cm speakers and cut some suitable sized mounting holes in the board. Again checking for fit I found the speakers were spot on.
I then covered the board in a nice black vinyl and then mounted the speakers and temporarily fitted the parcel shelf. I'm pleased with the look. No it's not original but the standard 1 speaker in the Dolomite is woeful and as someone who enjoys some tunes I've had to opt for the rear speakers. Actually it was quite hard to find some plain looking decent speakers so the pair of Pioneers for under £25 seemed like a good deal.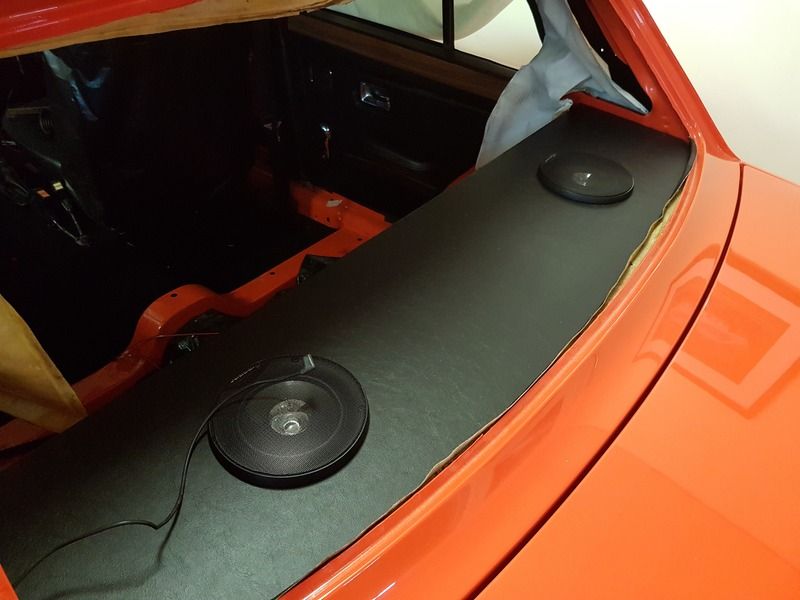 For the front footwell kick boards I used my damaged old one to make up 2 new ones from hardboard and covered those in the same vinyl. I was thinking of putting some front speakers in these panels but there's not much depth so these will remain standard. I'm then going to make some discreet speaker boxes and put these on the parcel shelf, no cutting holes in door panels for me.
I've also just purchased a spindle mount radio that looks period but has FM, DAB, USB etc. Looks to be just the job and will be a considerable improvement on the Radiomobile unit.