Hi all, this is my '74 Toledo 2 door "Carledo's Way" Drag racing cars should have a name and this one seems to fit.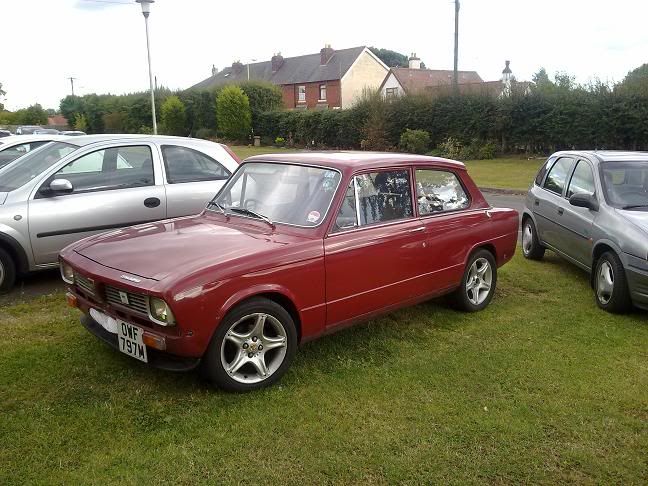 The story so far,
I've been thinking for some time now about building myself a quick car to do a bit of drag racing with, nothing fancy, just run-what-ya-brung days and maybe a bit of bracket racing if it turns out to work well enough. However with a disabled wife and 5 teenagers living at home my budget is almost non existant so I knew even before I started that this project would have to run on enginuity instead of cash!
So with an almost total lack of money I set out about 2 1/2 years ago to find a car as a basis for the project. My list of requirements were pretty simple, it must be a 60's or 70's, 2door saloon with rear wheel drive and not too big or heavy. Easy huh? After several weeks trawling on e-bay (have you SEEN how much people want for a rusty empty Escort shell?) this Toledo caught my eye, 41k miles, 3 owners,Ziebarted from new, original bill of sale and docs, a few days road tax and a recent and not too drastic mot failure. It was 7 days into a 10 day sale with a start price of £200 and no bids. Plus it was in Cannock which is only about 30 miles from my home.
After 3 days of holding my breath, still no bids, I bid £250 with 15 secs to go and found myself the proud new owner of OWF 797M for the princely sum of £200, I had been the first and only bidder! When I went to collect the car a few days later, (having booked an mot to stay legal) the previous owner told me he was going to weigh it in for scrap if it hadn't sold, a very narrow escape indeed!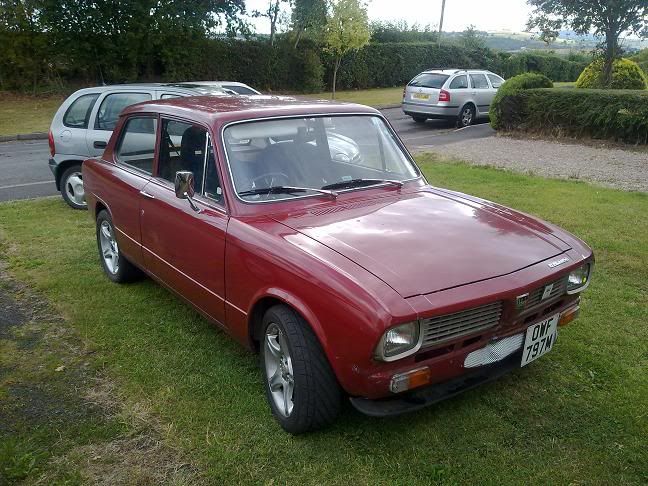 I drove the car home thirty miles without incident and immediately set to removing the 1300 engine and gearbox which I sold for £100.
At this point the master plan involved a Rover V8 (what else?) and the gods of e-bay rewarded me with a good ex p6 V8 with the bonus of a Lumenition kit, twin choke Weber and a remote oil filter all for £135 and a p6 4 speed gearbox for £60. I still needed a clutch and some other bits but I had enough to start work so I got out my trusty tape measure...........
I know now that this conversion is possible, i've seen pictures and videos and even a very nice sapphire V8 Sprint on e-bay and I tell you my hat is off to the folks who have accomplished this, cos my first thoughts on measuring up the engine and the hole were NO WAY!
Still I've started so I'll finish, maybe I can dry sump it, lose the water pump and fit an electric one, modify or rebuild the bulkhead.........
So now you're made of money?
OK, how about losing the front subframe and building a new front chassis with Herald suspension, you can get steel box cheap?
This is going to involve a lot of time and some VERY accurate welding-----are you sure this is what you want?
BY THE WAY, I KNOW TALKING TO YOURSELF IS THE FIRST SIGN OF MADNESS BUT I FIGURE IF IT'S ONLY THE FIRST SIGN............
Time to push the shell to the back of the shed to gather dust and let some new ideas mature!
TO BE CONTINUED