Well, another year has fled by, unremarked and unremarkable, the car has remained the soul of reliability, with the only niggle being a touch of oil smoke on first start up. I suspect that lovely new head had been sat around so long that the guide seals had hardened up. I should have sorted out some new ones before fitting it, I have enough round here! Really a case of "more haste, less speed!"
Now, finally, I have something to report!
Fans of the car will know that when I first built it, I installed the instrument cluster from a Nova SR, a) because I could, b) to commonise the rev counter, temp guage and speedo so they'd work without any bespoke mods and c) because it's a compact, well laid out and informative panel.
I't's not, however, been without problems, The speedo under reads by a massive 40%, a function of using a FWD speedo with a RWD drive gear set and cable. This is, surprisingly, no big deal, the human brain is endlessly adaptable and, within a few miles, mine had adapted to counting in 6s instead of 10s. More worryingly, almost from the outset, the printed circuit board on the back of the cluster would throw an occasional wobbler with circuits breaking down and sometimes smoke! Until recently, i've been reparing the dead circuits with wire and living with it. Attempts to procure another printed circuit have been abortive, they are obsolete from Vauxhall and anyone who has a good used oned is emphatically keeping it!
With this in mind, around last Christmas, I set about building another, more traditional dash panel, acquiring another wood panel and flat dash loom (thanks Rob Marshall) a 3 way 4" minor dial from Alun Nicholas and a Sprint Rev counter and GT6 speedo from my own stock. The speedo turned out to be U/S from sitting around in my garage for 20 years, so i've put a Sprint series 1 clock in the GT6 housing and face. It's anybodies guess how accurate it will be, but i'm betting it'll be better than 40% out!
Then, a couple of weeks ago, my hand was forced by the speedo cable failing, this was the last straw and I have installed the dash although its not finished yet. I HAVE had to get a bespoke cable made by Speedy Cables in Swansea (due here on Wednesday) but the rev counter and temp guages work fine with a mixture of Vauxhall senders and Triumph guages. Just lucky I guess!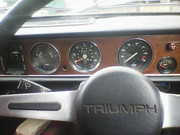 I need to relieve a bit of the wood behind the gaping hole in the lower left to fit the brake line lock arming switch, the multidial fouls slightly on the heater temp control mechanism (but I think this will adjust out) and I need to get a small green warning light to go between the speedo and tach for an indicator repeater. Other than that, i'm pretty pleased with it. The only clock I need to move my head slightly to read, is the voltmeter and I don't regard that as too much of a problem!
Steve