A little update, the engine mount problem is solved, turns out that what I needed were 2 RHS mounts when what I originally ordered were 2 LHS (or vice versa) but aligning the engine and trans in the car has thrown up another much more serious problem, in that the rear of the gearbox has been forced way too low by the large diameter Vauxhall "Rotoflex" type front prop joint interfering with the tunnel stiffener just aft of the removable tunnel section.
After a lot of skull sweat and theorizing I came upon a possibly practical solution and bought (ebay, where else) a Sprint gearbox output shaft flange, removed the huge tripod flange from the trans and took them both to my tame propshaft man at Proptech in Hartlebury for an opinion. I am now convinced that he is that legendary guy that can do anything with nothing as he has just given me back THIS:-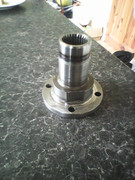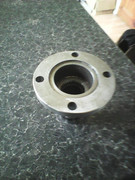 He's cut the tripod off, turned a step into the shaft and cut and bored out the flange of the Sprint part to an interference fit on the Vaux output section then shrunk it on and welded it in place. Fitting this has enabled me to lift the rear end of the trans by nearly 1.5" and line everthing up nicely WITHOUT modding the tunnel in any way (NO BIVA FOR ME!) Next weekend should see me fabbing the engine and gearbox mounts, then I can measure for the propshaft and get him started on that. He moans at me all the time about these bespoke jobs, but he always comes up with the goods! I think that, secretly, he likes the challenges! Hopefully, it will be strong enough to withstand the rotation twist of hard driving, but on the upside, being an automatic, the shock loads will be much lower than on a manual. He says he's done this sort of thing before and it's worked, so i'm cautiously optimistic, time will tell!
In other news, the engine/trans management loom is finally nearing completion (as is my planning permission for "temporary" use of the kitchen table) there is still a 3rd loom to build for electric windows and central locking that will be a scratch built job but that can wait if need be and be added later, the feeds and relays have already been integrated into the main loom.
Since I want to do all my hole drilling, bracket making and welding around the bulkhead and engine bay BEFORE it gets painted, which requres that I actually fit most of the stuff that is needed to wire and plumb the motor, I am sorely tempted to try and get it running before I pull it all out again to get the engine bay/doorshuts/inside of doors/inside of boot etc painted. This will give me a much needed mojo boost and mean that when it all goes back after paint, I KNOW it will run!
Steve