Just a couple of progress pics, I've painted out the shuts on the N/S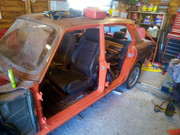 And vandalized my horribly expensive NOS steel front panel!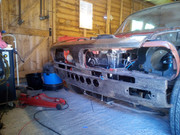 After a long internal debate, i've decided to secure the outer front panel and n/s wing with screws and Tiger seal. Mainly so I can paint the INSIDE of the panels thoroughly to discourage future rot, especially round the seams. I think I will aso add a couple of support brackets from the front legs to the bottom of the valance, it's very flimsy and the holes haven't added any rigidity to it!
I'm going to mount the number plate on 2 fabricated brackets between the vent holes and the spoiler, the brackets to keep the plate near to a legal vertical, I may just angle it SLIGHTLY back at the top to deflect a bit more air through the holes!
The bonnet with it's 1300FWD bulge is now prepped, primed, painted inside and ready for colour, pics to follow!
Steve