Over a year since my last post and (until recently) not a lot to report! Around the end of November last year, I managed to get the gearbox crossmember built up and fitted and did the "first fix" on the engine mounts, meaning I folded them am wedged them in place so the weight of the engine was bearing on them!
Then, at the beginning of December, my trusty old MiG welder finally gave up the ghost and died on me. I managed to get another, a slightly more powerful Transmig 180 (the old one was a Murex Tradesmig 140) for a very reasonable £85 and not far away either. But it was a rather a fixer-upper, having not been used for a good few years. This was explained on the advert, it wasn't misrepresented and I took a chance! Which didn't quite pay off! The lance was shot (but i'd picked one with a fitting the same as was on my old welder which had a nearly new, extra long lance already) The wire was rusty as a rusty thing and my 15kg roll was too big, so a new 6kg roll of 0.8 wire was purchased, the pipe connections for the gas valve didn't match, so my plumber neighbour rescued me with some bespoke fittings and last but not least, the amperage output control switch (actually a bank of 6 rotational microswitches) only worked on 2 settings! But my neighbour and I dismantled it and successfully cleaned, lubed and reassembled it and finally around 4 months later, it works a treat, very smoth and runs a lovely seam!
So, back to the plot, and having tacked the mounts in place, i've measured for the propshaft (75 mm shortening of the front section) The prop has been to Proptech, been shortened and rebalanced and is now in place on the car.
Next I've fabbed some mount brackets and fitted the new Saab 9-3 radiator, along with an Aeroline 12" electric fan and made and fitted mount brackets for the big ECU/relay box that fits in the N/S flitch.
Then on to making up adaptor hoses for the heater which i've also incorporated an early Sprint H piece into, fabricated some copper pipes for the transmission cooler which is in the o/s of the radiator and made up a hybrid Omega/Sprint servo hose.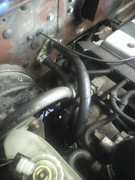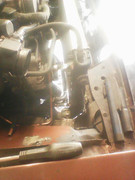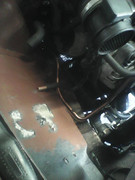 Next task was to do something about the fanbelt. The Omega had a single massive serpentine belt that drove the alternator, PAS pump, and aircon compressor via a sprung tensioner and a couple of jockey pulleys. Since all I have to drive is the alternator, i've adapted an adjustable alternator bracket and purchased a short 6 row belt from the factors, the big surprise being that I phoned them up and said i wanted a 6 row belt, 905mm long and they said, yes mate, got one in stock! God only knows what it's for, but i've kept the sleeve, in case I ever need another!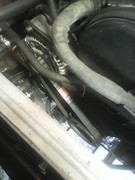 Finally, to get up to date, today i've modified the Omega exhaust downpipe for a clean fit past the subframe and tunnel, made up some extra fuel pipes (I need feed AND return) made a mount bracket to fit the high pressure pump under the boot floor and some brackets to mount the injection fuel filter against the o/s inner sill.
Next on the agenda is to mount the radiator header bottle on the o/s flitch, this will complete the cooling system, then I have to mount the shift quadrant on the tunnel and this, i think, will be be my biggest headache yet as there's just NO space for the lever and shift rod in the tunnel, i'm going to have to completely re-engineer about a quarter of it! Ho Hum!
Despite this minor inconvenience im beginning to get the feeling that i'm on the home straight, at least mechanically and a first start is not that far away. It WILL be a massive mojo boost when it fires up, even if I then have to promptly pull it all out again to paint the engine bay!
I'll add some more pics tomorrow!
Steve