Flocked dash in, all wired up....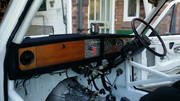 The new rear brake shoes are all on using all new, (NOS none of this new new rubbish) drums, shoes and cylinders, save the top spring....
The brake and clutch circuits have been filled and bled now and all work; the clutch release mechanism is a Sprintspeed one that does away with the slave cylinder, however, there is an awful noise coming from the 'box when the clutch pedal is pressed....any ideas?
http://vid1266.photobucket.com/albums/j ... 152723.mp4
Rumours are it's the box that's making the noise and not the clutch...I'll have to try it with the car on stands to see if it does it when it's in gear and driving the wheel maybe?