Quote:
I can't think of anything else engine wise which should be a problem, bottom end should be fine, you're doing the timing chain, I have done the carbs, Water pump is a brand new ceramic ring pump, I set the valve clearances and the cam looks good, rad is brand new.
I have a front cover seal if you want me to post it to you.
Remember when you refit the kickdown cable to make sure it is adjusted correctly. Sorry, you probably already know that!
Did you get the prop balanced in the end?
Love that little car!

I think the seal is ok, I know I probably should replace it while I'm at it, but now I just want to get her back on the road.
I haven't disconnected the kickdown - so hopefully it'll be ok.
Haven't got round to the propshaft, if I get chance to remove it tomorrow I'll drop it up at the balancing place on Monday.
The sump had really suffered over winter, so I've taken it off, cleaned it and given the outside a really good coat of anti-rust.
Tomorrow I'll give it a good coat of black ready for re-fitting.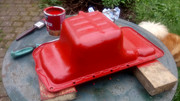 All the gasket faces are nice and clean ready for rebuild, the only thing really holding me up is the curing time for the paint on the sump.
Couple of things to note.... when I suspected the HG had failed I did the usual hunt-the-mayo. But didn't find any.
Since I started work on the engine I found mayo in the sump AND the oil filter seemed to be about half full of coolant!
I have fresh oil filter, oil, plugs etc. all ready to go as it gets re-assembled.