I've been out and measured the ride height, it seems that the settling after the 3up run out yesterday is really significant.
The front height at the top of the wheel arch is now 23 1/4", before I changed the shocks/springs it was 24".
My guess is that the mystery springs that came already fitted to the shocks were 1" lowering springs. (Assuming the originals had sagged by around 1/4")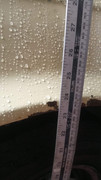 Short term plan is to fit the rear springs/shocks and see if I get a nice "even" ride height all round (even if it is a little too low)
For the RBRR I'll remove the mudflaps - that should give us the handling we are after without having to listen to the flaps dragging for 48 hrs!
After that I'll save up some of my pocket money and buy some original ride height springs.
Next job is to fit the MGF seats in the front ready for the event.