Matters arising from the RBRR:
1. Misfire
As we came off the motorway heading for home we had a misfire... especially pronounced at low rpm/low throttle.
I pulled the plugs out today and here's what I found.
Plugs on cylinders 1 and 2, clean on 1 side, dark on the other.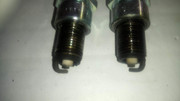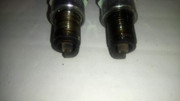 Plugs on 3 and 4, dark on 1 side, VERY heavy deposits on the other!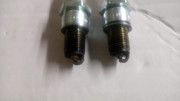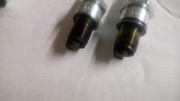 I replaced the plugs and the engine runs nicely, but clearly the underlying cause needs to be established. I'm thinking carb related as the pattern matches the pairing.
2. Noise
There's a loud droning noise at about 65mph and above. It seems worse on pull/load and is accompanied with a light vibration that you can see on the steering and feel on the car. I need to investigate this.
I'm not 100% sure it's road speed related as a similar noise/vibration is there just before the GB changes up when you use heavy throttle to hold the gear to higher revs. It's just possible it's rev+load related rather than speed.
3. Oil
We lost about 1 litre of engine oil in the first 1500 miles. No signs of it burning, maybe the filter or sump plug? (I changed the oil on Wednesday) It's also possible that crank case pressure is blowing it out of the dip-stick hole as there's signs of fresh oil around the stick.
4. Water
Very slight water loss over the course of the weekend, careful inspection of the engine bay shows a slight weep on the plug on the top of the thermostat housing and one of the heater hose joints at the back of the engine.
Apart from those things the car is clearly well capable of doing the event, keeps up with other vehicles without issue, space for a 3 person crew + kit. Very happy with the car's performance.