Quote:
A few slight oddities from the drive home....
At one point I got a really BAD stink of fuel in the cabin, but on stopping and looking around I couldn't find a reason why.
Temperature is nice and stable when sitting in traffic on a hot day! Which is good. It sits
just
above the mid-point on the gauge. But seemed to climb very very slightly when cruising along gently in a 30 zone, which seems very odd and counter to what I'd expect. (Makes me wonder if the 10V regulation is wandering slightly in the hot weather?)
(Bright sunshine = bad photo!)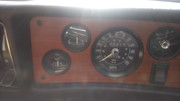 The other oddity is that once the temp is HOT (rather than just warmed up) the idle in "D" is too low. It stuttered and stalled a couple of times. Pulling the choke out a few mm (1/8th of an inch) cured it though.
With a high ambient and a hot engine idling at around 600rpm in drive (so basically sat in traffic) you are getting a bit of the dreaded fuel evaporation for sure. You could try slipping it into neutral for a slightly higher idle or if it gets really bad, pop the bonnet latch to let some of the hot air out! You can get up to a comfortable 60 before air pressure under the bonnet will lift it significantly!
I've no idea why paranoia about overheating is rampant amongst Dolly owners, with every tiny fluctuation of the needle being the subject of intense analysis and questions on here! Fer Gossake, it's a CAR and the weather is hot! If it doesn't boil over, it's fine!
Steve