Hi all,
Crawling back from the crypt... After more than 15 years of inactivity, the Dolomite itch is slowly coming back and an introduction is likely into place when (re-)joining a club.
We bought an Emerald Sprint in 2001. I passed the car every time I went to my artist's studio (I'm not into art anymore), where it stood neglected and forlorn in a corner of the garage.
It kept fascinating me... So after harassing/charming my girlfriend for a while once the car went up for sale, she gave in and agreed to buy the Sprint together - despite me having no driver's license and the car not starting.
Not hindered by any experience or realism I started some work on the car. Some minor corrections which I expected to last a couple of weeks (some corrosion, shot ball joint and not starting of course) grew to be a lot more.... I couldn't keep myself from tackling things 'while I was at it' and started to sandblast the outside of the shell with a small handgun.
During this undertaking I found out that its right hand side has seen quite a rebuild. Underneath there's a big dent in the floorpan, and you can see the yellow/golden patches of solder at the rear, C-post and front fender: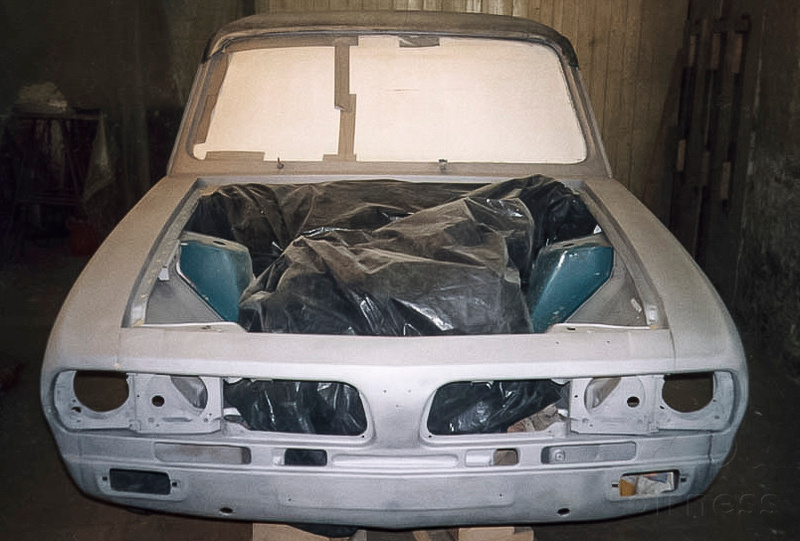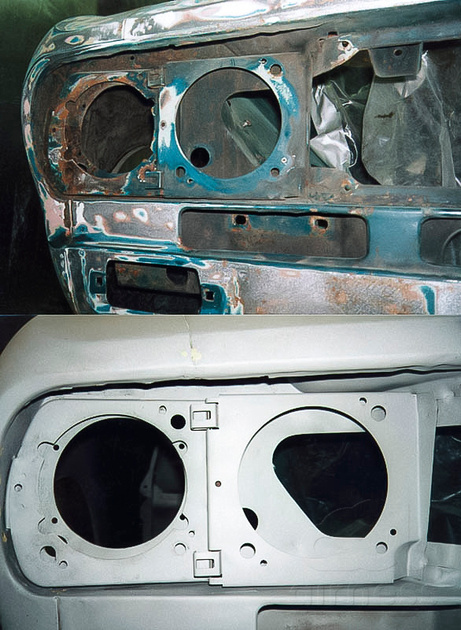 This probably has helped to save it for posteriority since the insides of the C-pillars were covered in thick grease.
After a major setback due to bad advice (wrong choice of paint) combined with my talent to severely underestimate the time work would take, it turned out into a project that I couldn't manage or finance anymore. I still remember being sat next to the car 15 years ago, with tears in my eyes when I realised it wouldn't work out and that it would take a very long while before I could continue.
I had no choice but to primer the shell and put the car in storage.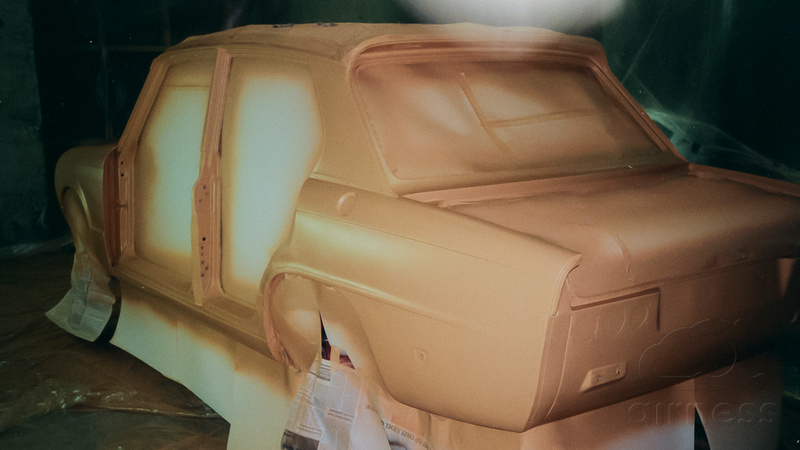 Life went on. We moved house a couple of times, mortgage, proper 9 to 6 job, too much volunteering duties etc etc.
Meanwhile, the Sprint was registered on the name of my Dutch in-laws because we moved from Holland to Brussels and I wanted to keep the original reg alive, just in case. Every year still, it is dutifully SORN. When my late father in law woke up from a three week coma, first thing he said to us was that the Sprint had to be Sorn'ed again (which effectively had to happen a week earlier). While we expected not to see him alive again!!
Three years ago I finally decided to go for my driver's license, and got it effortlessly when I was 41. Even before the end of the trial period, I bought a Defender, which still is my great love (apart from my gf of course) and has really changed my life. Defender ownership comes with a steep learning curve and so I got acquainted with British cars and got confidence in tinkering and wrenching. Recently I started with a car mechanics course based on the Defender, but I notice it also revives my interest in our Sprint. So here I am again...
Some details about our car:
VIN is VA5384LDLO, so if I'm not mistaken it's from the very end of 1973. It must have been built when I was 2 months old.
In 2001 I met a Dutch enthousiast Ronald (tahitisprint on this and the former forum) who at the time owned VA5371 (so 13 cars earlier) which was built shortly before Christmas 73 IIRC. Nevertheless, ours has first been registered in February 1975, so over a year later.
Colour is Emerald Green (which I understand to be quite rare on a Sprint) with black trim, although it has a brown interior now.
The original engine was out. VA 15042 HE has replaced VA 5493 HE in which I found a loose big end bearing cap.
Most likely the car hasn't been on the road since the late 80's or 90's. Here it is in 1984, still with the black interior:
Still have the luggage rack, but it unfortunately misses one foot.
So, how to proceed now? First need to soak up long forgotten knowledge, and try to make a plan - which will probably last quite some time. I'm in no hurry, and my previous experience taught me that it will take several years to get the car to a rolling state. So I'll probably be mostly lurking in the shadows of the forum, but evidently I'm open to hear or read suggestions and experiences.
Biggest job and cost will probably be the bodywork, because the crash(es) it had in the past have left a lot of bumps and dents which need to be evened out.
Greetings,
Joris.