Hello all.
VYK The Russet turned up on the back of a trailer not so long ago.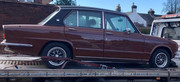 I had been looking for a tidy, running, and MOTd car for a little while, but as usual my lack of patience got the better of me and I bought a car that needs more work than I had originally been prepared to take on! As in...... the car is NOT running, NOT MOTd, has its interior stripped out, needs a clutch, etc etc Oh well, must try harder....... The body IS quite tidy though which swayed me to buy it.
There's plenty to do and I'm sure there will be more discoveries as I dig into the car. It won't be a show worthy car, I'm aiming for a tidy regular driver. I have restored a few cars in the past and whilst this is more of a mini project than full restoration, I thought it would be nice to have a thread to document my efforts. I will enjoy some tinkering and post my successes and failures alike....
Progress will be slow because I'm also renovating our house which we have recently moved into. The garage is quite a bit smaller than I have been lucky enough to have in the past. But a recent shed purchase has allowed me to clear some stuff out of the garage and make some room so that I can swing some spanner's about.

First job then is to try and get VYK running. So; new battery, fresh fuel and filter, check points gap, plugs, got spark? Got fuel? Cranked over a few times and burst into life! Only to die seconds later with fuel pouring out of the waxstat union on the front carb. Bugger.
Forum was duly searched for waxstat info as I had never even heard of such a thing. I came across some good information and decided to do the 4p conversion whilst I had the carbs off for a minor recondition and clean. I'm a bit of a tight arse I know but how could I resist? I've just got to see if it actually works.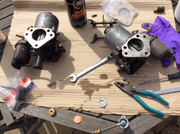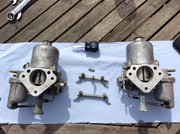 I think old Queenie looks right at home in there.......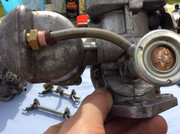 All fitted back up, but haven't yet had the chance to set the carbs up and try to get VYK running again...
I'll report back soon I hope....