This week I have mostly been fixing my voltage stabiliser...
My gauges were all reading high, with temperature sitting at the 3/4 mark when normal and my fuel warning lamp coming on when the gauge said I had between 1/4 and 1/2 a tank...
Using my trusty multimeter I took some readings: Initially I was getting around 11.5V (should be 10V!), then suddenly 0.5V! It seems that the meagre current draw from my meter was enough to pop the VS

So, I ordered up a set of 5x "ON Semiconductor KA7810ETU Positive Voltage Regulator, 1A, 10 V, ±4% 3-Pin, TO-220" from RS components for the princely sum of £3 delivered, and stripped down my VS. I did this as I wanted a stock look under the bonnet, yet as an ex. student of Lucas Rists I knew I could update the original 18th century design

. What I found was not the usual "element and bimetal" guts, but a modern circuitboard covered in a cheap IC, resistor and capacitor. Never mind, I removed all these, used the old pin outs for the new KA7810ETU, put it all back together and... I now have a working VS with a constant 9.8V, and my gauges are all reading what I would have expected.
The old VS with the metal can edges opened up ready for extraction:
The circuitboard underneath. The two large solder pads and the outer ground track would be used later: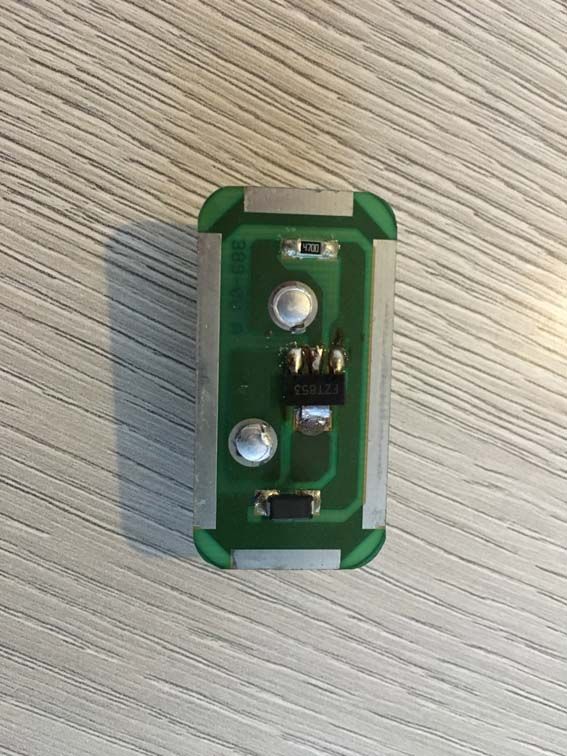 The KA7810ETU. This is a much larger, more robust version of the ICs I removed. I did not bother with the filter circuit (that's what the capacitor and resistor were for in the old circuit) as they are not really needed on old analogue gauges with the reaction speed of a sloth

:
As this worked first time without breaking any of my new KA7810ETUs, I now have 4x spare. So... I'll be donating these to Alun when I see him in August. And if he has 4x old and dead VS units I'll refurbish them using these spares for forum members, for free barring the postage. As I can't yet repay the good advice I get from you guys yet, this is one way I can give something back

.