Shaun was asking me how to disassemble one of these....
Some information is here but it looks like I didn't actually provide an explanation on how to do it.
This is what yours may look like when it comes off the car!
Shauns right, it isn't entirely obvious how it comes apart.
The big spring that connects to the rear axle should just pull out, get that out of the way and make some space!
Click on the photo below...
In one end of the pivot is a grub screw (1), this secures in a pin (2) that in turn holds the pivot in (3). Remove the grub screw and the pin in the picture below and the pivot should be able to driven out, this may be a bit stiff due to rust/dirt etc...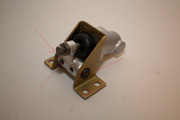 You can then remove the rubber boot and undo the nut holding the cylinder to the bracket.
Use a club refurb kit and reassemble as per the picture below
The hyundai H100 van uses the same part, here's the hyundai parts diagram, the part number is 59411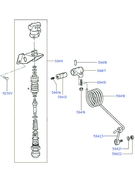 https://www.ebay.co.uk/itm/Bremsdruckre ... SwmLddeO-j
Hope this helps!