After restoring and creating a concourse Sprint/Hill Climb/Track car from a pretty derelict 1975 Sprint, I always had it in mind that I would like to have a road going Sprint, and an as early as possible one at that. After restoring my first '73 M reg Sprint way back in the late '80's, the ideal scenario was to buy that back and re-restore it: UUW 410M was last on the road a few years ago and is currently SORN'd and is known to be in the Llandudno area according to he DVLA MoT website, but that's where the trail goes cold! I just can't quite track it down!
However, just to complicate matters further, when VA138 popped up on eBay, and the fact that is such an early L reg car, I'm afraid my curiosity got the better of me; after some tense negotiating with She Who Must Be Obeyed, we went half's on it paying £3450, and bought it! Even now after the dust has settled, this still seems a decent price to pay.
VA/138-DL or TXL 649L, which is probably quite well known by some on here, was built on the 14th March 1973 and registered on the 6th of June later the same year. The current mileage of just under 66,000 miles looks to be entirely genuine as it comes with a sheaf of history indicating this to be correct. I am the fifth owner in 45 years, the first having it for nearly 20 years when it then passed to his daughter before entering the open market around the 2003/2004 mark.
Overall condition is pretty good to be fair considering it's 45 years old - sure there's enough corrosion to fail an MoT, but it's no where near as rusty as my '75 Sprint was and mechanically it needs quite an extensive overhaul with all the brake pipes and fuel lines etc. needing to be replaced, whilst the interior will need to be renewed due to an attack of a Rodent variety!
My plans are to eventually rebuild it to a concourse standard using as much of the original car and bits that I can to preserve the originality and then to keep hold of it, but in the meantime will probably get it recommissioned so it can be a rolling restoration.
To this end, I've enrolled someone who has the sort of attention to detail that I like to think I have, and who will go at it like a Pig at a tater, whilst doing everything right!
I am totally delighted to say that James Shepard has agreed to be the expert lead, and as things progress will populate this thread with what I imagine will be his customary attention to detail and zeal!
I will start to populate this thread with images soon and as and when progress starts to be made.
In the mean time any former owner or the like, please feel free to chip in!

Onwards and upwards!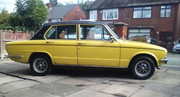 The pictures won't be all that good as the car's now stored at the back of some cars in a dark barn: the reason being that it's free storage for as long as I want it!