Hello all.
Just a bit of an update on SWU.
A few weeks ago I had a visit from Scott, the mobile welder I have been using. I decided to ask him to repair the windscreen scuttle area as this had rusted quite badly,especially the offside (although wasn't visible initially under the filler). I cut off the tops of both wings to facilitate access and Scott made a good job of fabricating a repair in this area.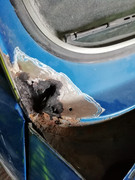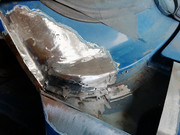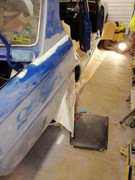 We rust treated the internals before he welded it all back in place, I will then spray some Dynax in all the cavities in due course. The area is currently epoxy primed until I get round to filling/priming and painting.
Otherwise, I have been concentrating on the n/s rear wing panel. Filling, sanding, priming, guide coating, sanding.... it goes on! It is nearly there now, just a little more prep before I can finally apply some more primer and paint. I need to finish a repair to the inner arch first to close off the cill.
I've been using Upol filler products: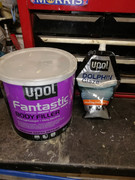 It is a long time since I have used much filler - probably 20 years or so when I used it on my 1st car - a 'rusty' old Vauxhall Nova saloon. It certainly has come on in terms of ease of use compared to the old P38 isopon I used to buy. The Dolphin Glaze is especially nice to apply and sand for small imperfections an undulations.
I guess the proof of the pudding (quite literally) will be in the eating, so I look forward to putting some blue paint on soon.
I have one more patch to let in on the inner wing first before I apply the final coat of primer.
Fellow club member Mike Groom recently put a request out for a bonnet/boot to practice using his new electric polisher on. I was more than happy for Mike to practice on my bootlid as it is very oxidised, scratched etc. Mike did a superb job, working through various compounds and polishes which have restored it to a mirror shine. There are some microblisters in the paint, but I'm more than happy with this. If the rest of the car responds to this level of treatment it should look reasonably presentable. I may purchase a polisher for myself and have a go on the rest. See the pictures below 'before and after'. Great job, thanks Mike!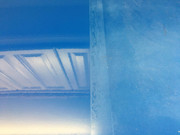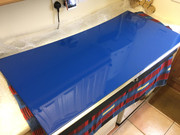 I have also filled and painted the tops of the cills near the treadplates. Scott seam welded here when the new cills were fitted, however to keep cost down and make more use of his time, I have done all the linishing down and final prep. It is nice to see some blue paint now in this area and I will stonechip and satin black the lower cill area in due course as per original..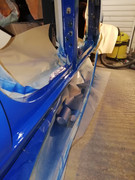 I have had the paint mixed up by this company:
https://auto-paint.co.uk/
The match is really good, the cans lovely to use and very reasonable at £7.95 per aerosol. I will paint the wings etc with this in due course.
Other than this, I have refitted some interior trim near the bonnet release (recovered in vinyl) and generally been tidying up a few areas. I intend to take the car to the NEC resto show at the end of March to undertake some more work with the aid of some of our resident experts. I have a long list of jobs, so hopefully some good progress can be made.
I look forward to seeing some of you then.
Till next time.....
MC