Hi folks.
The last few weeks have been spent continuing on the o/s rear inner arch and wing.
I had to close off the inner rear arch as I had cut out quite a large rotten patch repair much earlier on in the project. My mobile welder ran out of time when he fitted the sill on this side, so I thought I would do it.
While i had a gaping hole I could see right down the length of the sill, so I thought I would apply some Dynax aerosol through the sill first so as I could see how well it covers - very well to be honest, so it is well protected for the future.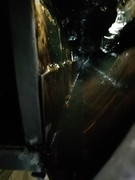 I then set about making 3 repair sections that I welded in place. Welds were linished down before a coat of epoxy primer, followed by a skim of fibreglass filler over the welds just to make sure any pinholes were filled. This was then primed again, before a coat of Epoxy Mastic black over the top. Eventually I intend to paint the inner arches body colour, but this should give good protection for many years.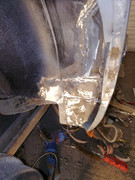 Once this was complete I carried on preparing the wing for top coat. I have spent a long time preparing it, and to be honest I just wanted to get some blue paint on it! So after a final rub down with P800, followed by panel wipe etc, I got up early on Saturday morning to put some top coat on before the washing went out on the line!
Multiple coats were applied and I am really pleased with the paint match and the finish from the can. It will need wet flatting and polishing, but should look ok. However, it is a bit 'wavy' in places and the swage line isn't perfect.
What I have learnt from this:
1. I should have spent a bit more time on this and not let the thought of shiny blue paint run away with me!
2. I should have bought a longer, flexible sanding block. Mine is rigid and due to the contours of the panel I didn't get full use of it and preferred using a small flexible sanding block with abrasive rapped round it. Despite going through the grades and using guide coat, some of the low spots didn't get picked up due to the use of smaller sanding blocks. I have purchased a longer block now, so I will use this on the n/s!
For now it is fine. I may return and have another go at it once the rest of the car is up and running and see if I can improve it. My intention long term is probably to have the sides painted professionally anyway, but I would have been delighted if I was 100% happy!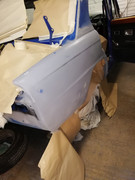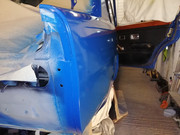 Other than this, I have painted the o/s sill today and also the black panel on the rear of the bootlid. Both look good in 'Satin' and I used a can of Simoniz 'tough paint' for this - quite forgiving paint and hopefully hard wearing.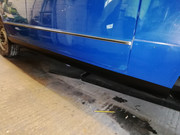 I have also cleaned up, rust treated and painted the transmission tunnel before fitting a new seal. I bought some rubber seal on a roll in Australia last summer! Stuck with Evostick, should do the trick I hope.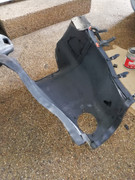 I am just waiting to hear if the PC Resto show will be on at the NEC - highly unlikely I feel, but if it is, then I will be taking the car along to work on for a few days... if not I will self isolate in the garage and continue!
Kind Regards
MC