Cheers guys. Have been doing a few bits most evenings now to try and get it up to speed. I have brought out the welder and now properly practicing (or will be when the new roller arrives).
Since the last post, have removed more ziebart from the bay. white spirits seems to be working really well especially if left overnight, it just cracks off in the morning! will try some petrol on some stubborn bits if it comes to it.
Have also put the blower back on after painting, not the best paint job in the world but at least free of rust now. Here is the little foam bit i replaced that goes behind it to stop water from getting sucked in.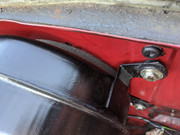 Here is the unit itself after being reinstalled and tested: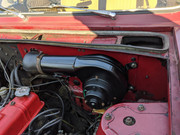 In preparation of the welding work, i have used a magnet to try and figure out where the fibreglass starts and ends on the wings as really i want them to be as metal as possible with filler actually filling cracks. As you can see it has bubbled and the paintwork looks terrible so want to sort it out ASAP. the sharpied area is metal and inside it is all filler/fibreglass.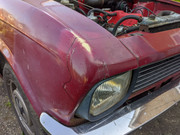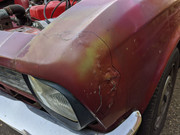 Overall the bay is coming along quite nicely, there are bits of ziebart ive missed but i will tidy those up later. The main bit to do now is round the brake master cylinder and servo, that whole corner behind the turret. I am thinking of pulling the engine + box out soon (maybe this weekend if the weather's nice) so will do that afterwards.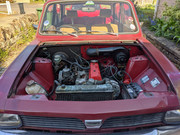 Also installed a new coil as the old one was 13 years old, and in doing so the idle is now a lot smoother. I deleted one of the wires to the coil as i found out i didn't need a joiner between the coil and dizzy. One less place for a weak connection!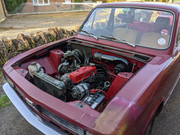 I am feeling quite motivated to get on with this car now. I have hubcaps on the way, cheers carledo, found some front seats (thanks to Matt!) that are pending collection to finish off the interior as well so just need a radio surround now and that box can be ticked.
I also bought myself a rear roof section cut, so will use that to fix the rust by the vents. Have the panels for the rear arches too so after that it should just be sorting the doors and front eyebrows out.
Jack