Quote:
Quote:


cheers Glen, will look out for one of those. I guess the downpipe will be slightly different too?
The downpipe is a twin type and the exhaust system is a slightly bigger bore, so probably best to change the whole thing over.
Will have to keep an eye out for that lot then - i presume the 1300 exhaust beyond downpipe will be too small diameter for the 1500 downpipe. Just seen you were selling some but didn't get in there quick enough! let me know if it falls through but no worries if not.
I have received some 1500 carbs on a manifold with all the linkages (cheers jonathan!), have just been converting them as they are the waxstat type from a late model - have used the 2x1p trick. Going to try and use these jets and needles as they don't appear to be ovalled just need cleaning up. Have also been wire brushing the carb bodies so they're looking a bit better now, just need to replace gaskets and the float chamber conical thingy, I forget what it's called but it sits just above the actual float inside the chamber.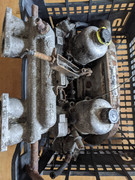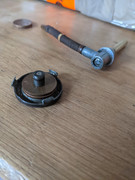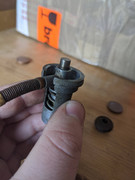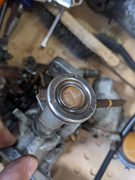 Yes, the system is a bit larger diameter and starts in a slightly different position. You could link them together with a piece of flexi exhaust pipe, I did this until I could source a 1500 system.
Yes if my sale falls through I will let you know.