Quote:
Quote:
Even more sense, I mount my remote pumps under the boot floor. No swirl pot needed! I run the return into a T piece in the tank breather, SEEMPLES!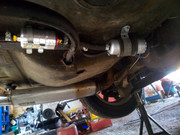 Steve
Hi Steve
Do you know what fitting type screws into the fuel tank?
Regards
Barry
I'm not sure what the thread is, some sort BSP I suspect. I use a fitting that is standard on some Dolomites which is a brass extended union about 2" long. I cut the pipe out of it to make the bore larger, file off the nut flats, wrap the thread in PTFE tape and tighten it in with a Mole grip. It will then just accept the 12mm bore hose that fits onto the tank end of the pump. A bit rough and ready granted, but it's been operational for nearly 10 years on the Carledo and keeping petrol in the Dolomega for a couple.
The other unit in the pic LHS or nearer the rear of the car is prefilter. I lost a couple of pumps to sludge in the tank. This one came from SimonBBC, has renewable paper elements and, most importantly, has a choice of fitting diameters to match the 12mm hose.
The whole assembly is a lot tidier now, with a shaped copper pipe between the tank and prefilter and the whole lot protected by the longitudinal bar of the towbar which runs parallel to the filter and pump run and right next to it.
Steve