Below is my first Sprint which I owned back in 1988. I really didn't know what 'Kenlowe' and 'o/cooler' meant at the time, but the car was local, in great condition and VERY quick so I bought it !! For my 50th birthday, my plan is to fit the Nissan CA18DET engine and generally upgrade, while trying to keep the appearance the same as my first Sprint. Most of the mods are fairly well documented, so I'll only post pics of custom parts and major alterations.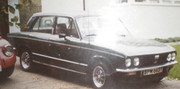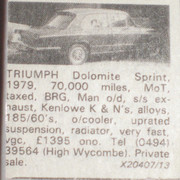 My intention is to :-
- make the car to look as standard as possible.
- upgrade with newer components without detracting from the look.
- set up the suspension as 'fast road' rather than 'track'.
Work completed to date / in progress :-
Front suspension
Custom Dan Brown subframe using Rover V8 engine mounts. I bought 2 sets of mounts and cut the studs off one set, allowing me to get the engine in exactly the right place before drilling the hole in the subframe and then swapping to the other set with the studs.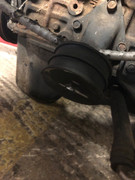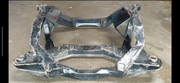 New Superflex wishbone and ARB bushes.
Original standard rubber subframe bushes, though I may change to Superflex
New bearings pressed in using a 1.25 inch washer from eBay.
Front hub spacers, which are located on the stub axle between the two bearings from 'Triumphstuff' on eBay.
Front brakes
Trackerjack with Greenstuff pads.
Slightly longer balljoint bolts to fasten caliper bracket to the upright. Thanks Carledo.
Carledo custom caliper braided hoses.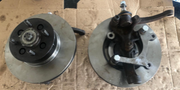 Steering
New ball joints, track rod ends, Superflex steering clamp and column bushes.
Rear suspension
New standard bushes fitted. Thanks Dave 'new to this' for use of his vice.
Rear brakes
New slave cylinders.
Carledo T piece brake line modification.
Load sensing valve deleted.
Electrics
Jag battery box in the boot with largest battery possible that fits in that box.
BMW E30 headlights using inner Dolomite headlamp fittings.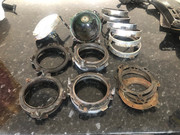 Nissan gearbox
I needed to swap the standard Nissan 200SX gearbox for a shorter Nissan gearbox and use the 200SX bellhousing to mate it to the CA18DET. When I split the gearbox, I discovered that one of the bearings was, in short, buggered !!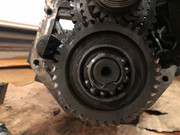 The replacement bearing is coming from Dubai !! Other gearbox components, were ordered from the US.
Propshaft
Triumph rear flange with new UJ.
Nissan sliding joint with new UJ from London TX1 taxi.
New Triumph centre bearing.
Prop shortened and balanced by Proptech. Thanks Carledo.
Bodywork
Debumper front and rear.
New club headlight panels, inner / outer cills and passenger boot floor. Thanks Alun.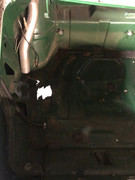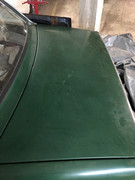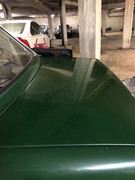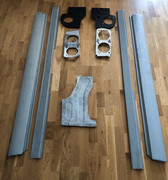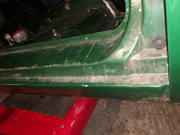 More to follow as the bodywork progresses.
Engine
T28 turbo reconditioned by Jermaine Kinge (Facebook) rather than T25 on standard manifold.
Custom Jetex 2.5 inch / 63.5mm exhaust including front silencer and rear stainless steel silencer with twin 2 inch tailpipes.
There's not much room, so had to chop the suspension turret a little bit.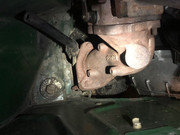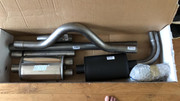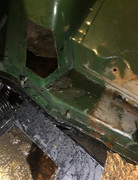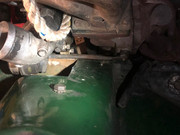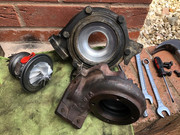 Still in planning
- AVO or GAZ height & rate adjustable shocks. I'm not sure what spring length / rate to use yet. Note that the CA18DET engine is certainly much lighter than the Sprint lump.
- Solid steering clamps from Sprintspeed and / or the forged coupling from Chris Witor.
- Folding fabric sunroof with correct brace bars. Wanted - whole roof including sunroof and brace bars. Thanks Carledo.
- Rear seat belts - 2 interia and 1 lap belt. Wanted.
- 185/60/13s Falken tyres from buycarparts.co.uk who regularly sell tyres at 50% off.
- LED lights rather than bulbs, including instrument panel.
- Separate loom for the CA18DET engine with additional fuses.
- Separate fused relays to control 4 headlights, horn, fan and fuel pumps.
- Club electronic voltage stabilizer.
- Custom speedo cable between Nissan gearbox and Dolomite speedometer from Speedycables.
- Nissan clutch and clutch slave cylinder
- Custom braided hose from slave cylinder to Dolomite master cylinder.
- Facet style fuel pump to swirl pot to Bosch 044 fuel pump. All boot mounted.
- Fuel overflow to swirl pot.