End of 2021 update
Had some amazing progress on trying to get the engine fired up. I had a lot of trouble wiring up the Speeduino ECU; the size of wires I used didn't fit into the ECU plug, so I had to resort to soldering the wires directly into the board. These can be cut and a proper ECU plug added in. The only thing that's stopped me from getting that first fire is the throttle linkage.
I had originally planned on using the original MG Cable mount but due to having next to no clearance between the top of the throttle bodies and the bonnet, I had to trim them off. This led me to designing a bell crank linkage which connects both sets of linkages to the original throttle triumph cable.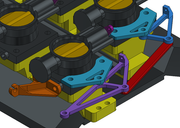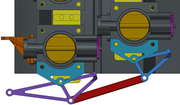 I got myself a 3D printer just before Christmas so have been playing with that and have been printing out a few smaller items and the prototypes for the linkage. These are out of PLA material, which is woefully unsuitable for long term use, but more than suitable for prototyping and test fires. I'll be reprinting them all with a Carbon Fiber-Nylon material which is more heat resistant.
I've also picked up a new radiator to mess around with the fitment. this one from a MK2 MX5. The radiator is massive and fits really well between the chassis rails. The only issue I have with them is from my own stupidity. I welded a brace bar between the front sub-frame bolt mounts on the sub-frame to make sure the sub-frame didn't get twisted as the only thing holding the two sides together is the steering rack support. This was a mistake in hindsight as it sits too high for the new MX5 radiator. It also interferes with the original S Type sump but I'm working on getting that cut down as the sump is where the anti-roll bar should be.
I've also been working on what brakes I'll be using. As I have changed my front hubs to a Ford Escort pattern, this rules out brake kits built for Dolomites, as well as Escorts. I'm currently designing and planning my own front brake set using a set from a Fiesta ST150. These will fit under the 15" wheels I'm planning on running but not under 13"s. I currently just have a plastic copy of the mount plate which does support the caliper, I just need to get a set of discs machined to be hub-centric and bolt up to the hub, but the stock ST150 disc looks pretty close.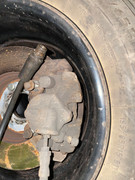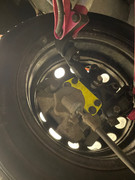 I've also taken a new design/construction philosophy, which is Build, Review,Build. So, that means a lot of potential waste but it will mean that it'll help every component and modification be better designed and constructed.