Greetings folks,
This week I fabbed up some cover plates for the rear bumper mounts and to tie in the tow straps. I also spaced the boot catch springs away from the rear panel so they don't run on the boot lower edge.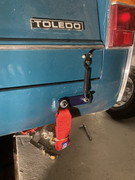 Then I focused on the external battery cut out switch, I sited it in the usual place, it's bolted to the bulkhead through the steering column mounts, and cut out some of ribs in the bonnet grill so that the switch can be reached easily from outside.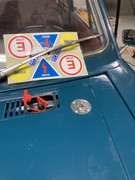 That was all tidied up and secured. Though on reflection I will probably have to alter the wiring so that it runs in series to the internal battery cut off switch. Then I started on the dash auxiliary panel which sits between the parcel shelf and the dash.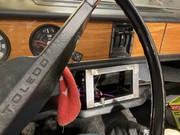 This is bolted in through the parcel shelf mounts so is in there nicely. Then I fabbed up side panels to enclose it smartly, and welded nuts on the back so I can fit the switches and then bolt the panel up.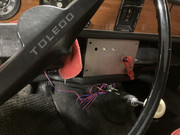 So it will look something like this, with the internal battery cut off on the right, and initially a single bank of switches on the left, with room below for either another bank of three switches, or some kind of commissioning plaque.
The switches control spotlights, headlights, etc.
The panel and frame will go off for powder coating mat black next week.
This week I also swapped out a cross threaded brake coupling that was weeping and made up a new bit of line. I've had a go at bleeding the system but there's still a lot of slop in the pedal movement so I'll have another go of it.
Peace out!