Probably time for an update on the glacial progress I am making on PFJ: seems to be endless time passing by, just waiting on parts to arrive in the mail. Fortunately PFJ seems to have a self-generating list of simple-minded things to be done, so I have spent much of the time doing under-bonnet detailing. The absent intake manifold structure provides more convenient access to the space.
I received a dispensation from House Management to park the intake manifold structure upon the kitchen table for an indeterminate period. So I have spent many hours cleaning up the gazillion nuts/rods/shafts/springs, and hand-polishing the supposed-to-be shiny bits. Better to be in the warmth of the kitchen than in the dank wintry garage. Thirteen years of looking the other way has cleaned up nicely: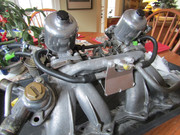 The newly wide-opened spaces have also given easier access to the French Blue painted sheet metal in the engine compartment. So I have started to clean-up and re-polish those painted surfaces. PFJ is starting to reclaim perhaps a tiny bit of her pre-LeJog splendor: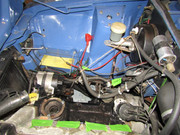 I had forgotten the extent to which this Sprint is accompanied by a treasure trove of documentation. Some items go back to the very first owner (the Passport to Service booklet with nine dealer service department stampings!), but the majority of the information is from 2008-onwards. The items run from receipts for parts purchases on both sides of the Atlantic, to paid restoration bills, to UK and US vehicle documentation, to a CD containing all the 2008-2009 restoration photos, to even the trans-Atlantic shipping stickers removed from PFJ's windows upon her arrival at the Charleston Docks.
All this documentation was semi-jumbled up into several manila folders, so my other recent activity has been to reorganize everything. All items are now in transparent protectors held in a 3-inch thick, 3-ring binder (a blue binder, of course). This humble Triumph may have a more detailed provenance than some of the big-buck collector cars that I have drooled over in the past. Photos of a few items from the binder: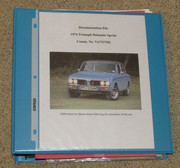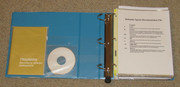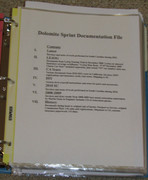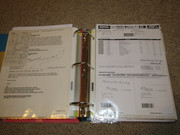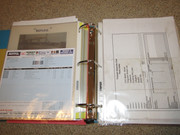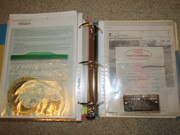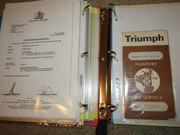 OK – time to go out to the mailbox to see if that blasted 1/2" BSP Adaptor Fitting for the new 12-vane Pump Cover has shown up yet.