Ah, so it's VA 203 DL, not VA 203 DLA (or DLBW) and therefore not originally auto. So used to seeing auto's converted to manual, it didn't occur to me that someone would have gone the other way!
Ian, you certainly can change the colour on the V5, no need to change the trans type as there's no section for that, but most Sprint autos were listed as Dolomite Sprint Automatic (or Auto) under the "model" section on the V5 and this may not be altered. This is why Auto Sprints have their own dedicated section on howmanyleft.com.
Also the commission number (vin) is different for an automatic (DL=4 speed manual, DLO= overdrive manual and DLA= automatic) this may not be altered on the V5 either.
Admittedly the VIN plate can be cobbled to produce the result you want, all it takes is a blank plate and some letter/number punches and you can have any trans code you want, as well as any colour/trim combo. but the V5 won't lie (though it MAY be mistaken, see Alun's article on his Magenta Sprint in the latest Dolly Mixture) and the wrong trans code in the comm number will cause problems at MOT time since they use the last 6 digits to identify the car, whatever those digits are. So in the case of this car, a manual car's last 6 digits would be A203DL whereas an auto's would be 203DLA or 03DLBW. And the tester would get very confused!
Steve
Like so!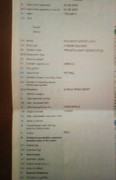 Sorry about the slightly blurry image, blame my phone camera! Even the engine number (which contains no number on MY V5) has the telltale A for auto as the last letter, but this CAN be changed!