Very reluctantly I feel I must comment....
Quote:
Middle one, which is the one fitted on the front for the photo of the car above, is 325mm free length. (Rimmers HD "standard" ride height... according to them)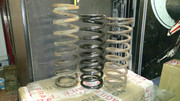 Left is original spec, on the right is the official 1" lower.
Sorry haven't got photos of the rear.
That is what I would expect to see, Sam.
If the HD was the same free length as the standard spring wouldn't the car sit higher?
I have used springs from Rimmers without any problems in conjunction with adjustable shocks.
From experience, I know buying adjustable shocks is sensible because the fixed type don't always have
the platforms in the same place.
In other words I agree with Mark:
Quote:
Fit standard springs and height adjustable dampers, best of both worlds.
thanks
Ian
_________________
TDC Forum moderator
PLEASE
help us to maintain a friendly forum,
either PM or use Report Post if you see anything you are unhappy with. Thanks.