Quote: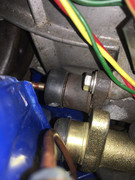 Hi Ian
As you can see the new slave cylinder is a lot shorter than the original, Also the piston under the rubber on the new one has a greater indent so the pushrod sits even further back, therefore the pushrod will not reach the lever.
Hope this explains it.
Darrell.
Thanks for the explanation Darrell,
so it is the piston that is the problem.
Presented with this situation,
I probably would have used longer bolts c/w spacers or extended the pushrod.
Ian.
_________________
TDC Forum moderator
PLEASE
help us to maintain a friendly forum,
either PM or use Report Post if you see anything you are unhappy with. Thanks.