I've seen lots of threads about "My mirror mount just broke" etc but I haven't seen any mention of how to make an effective repair or how to pre-empt the problem.
The main problem is that if you try to glue the two halves back together it might work for a while but plastic is a difficult material for adhesive to stick to even if you key it. The end result is yet another broken mirror mount.
I have to say a big thanks to Mike Barker for the mirror mount!

So here's my fix for mending the plastic rear view mirror base that often cracks and then falls in half.
If you see the crack developing remove the mirror assembly from the roof mounts by undoing the two countersunk screws.
If the mount is already in half clamp it in a vice (with the stalk!!) so its held together during the following operation.
Attachment:
File comment: Crack
Crack.JPG [ 51.65 KiB | Viewed 2100 times ]
Remove the mirror (single screw at rear)
Get hold of some small diameter screws (I used 1.5 mm diameter brass). Pre drill 4 holes with a slightly reduced diameter than the screws in each corner of the plastic base. You'll note that this is the thickest part of the base so you do not need to drill right through. Just take your time drilling.
Attachment:
File comment: Pre-drill holes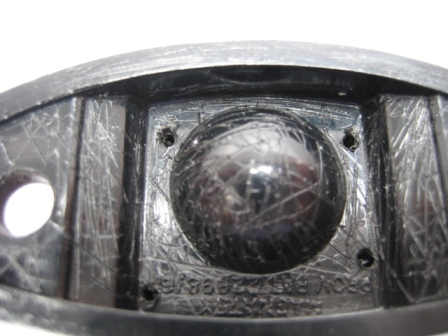 Pre-drill holes.JPG [ 73.95 KiB | Viewed 2100 times ]
Using a knife or the edge of a screwdriver, key the plastic surface so the adhesive has a key. Clean the surface with a solvent.
Screw in the four screws so that the heads are just below the level of the mount- carefully!
Attachment:
File comment: 4 Screws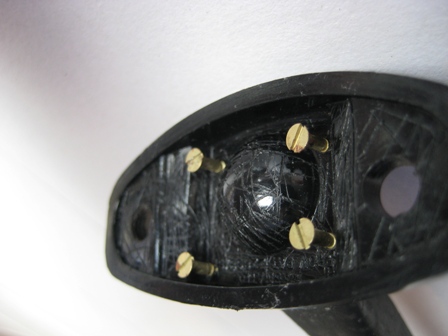 4screws.JPG [ 60.07 KiB | Viewed 2100 times ]
Mix up some adhesive. I used Araldite. Using the spatular make sure that the adhesive is pushed around the screws. Wait for the adhesive to set and either repaint or refit.
I have no idea as to the likely success of this over time but its certainly a means to provide some way for the adhesive to bond (indirectly) to the the base and to prevent twisting. Just don't tighten the mounting screws particularly tight either as this will end up with forces which try to split the mounting base. Also lubricate the swivel at the back of the mirror as this gets rather stiff over time.