Substituted 7-inch Lucas 20-20 Homofocal Front Fog Lamps – January 1983
In contrast to my home region of South East Essex, I frequently encountered extremely foggy conditions, in Bedfordshire, in circa February and November, when driving my Triumph Toledo, during my postgraduate engineering studies at Cranfield, from October 1980 to May 1984.
The original "matched" pair of Lucas Square-8 fog & spot lamps (i.e. one of each), that had been retro-fitted below the front bumper, by Mann Egerton in Leigh-on-Sea, Essex, sometime prior to my father purchasing the car in May 1975, had proved to be ineffective as fog lamps, on previous occasions when fog lamps would have been useful. This was why I later reassigned the single Lucas Square-8 fog lamp, to be a supplementary reversing lamp mounted onto the underside of the rear bumper-bracket and put the single Lucas Square-8 spot lamp in storage.
Sometime earlier from an article-reprint I had acquired, I learned of Lucas 20/20 Homofocal, 7 inch diameter, front fog lamps and auxiliary driving lamps which were reviewed in the British motoring magazine "Motor"
(see David Windsor & Maurice Rowe, "A British Lamp to Beat the World", Motor, week ending 8th November 1980)
, comparing them with well known, rival products from Bosch, Hella, Cibie and Wipac.
On the basis of that rave review and the fact that these lamps (albeit with H3 100W bulbs) had been adopted by the British international-car-rally team, I bought a pair of fog lamps from the local branch of Halfords, for the princely sum of £18 each. At the same time, I also bought a pair of moulded-plastic Lucas 20/20 lamp covers, to protect the lamps from stone-impact damage when the lamps were not in use.
Fitting the moulded-plastic lamp covers was easy, but removing them was quite challenging, especially when the plastic was cold and stiff. With hindsight, I would have preferred some wire-mesh protectors and/or some elasticated, padded, fabric (e.g. yellow nylon fabric with a black Triumph laurel-leaf emblem), lamp covers; both of which I am considering for the future.
I was unimpressed with the lamp mounting brackets retro-fitted by Mann Egerton, to mount the "matched" pair of Lucas Square-8 fog & spot lamps. They were simply L-shaped brackets that were bolted to the outboard sections of the front bumper brackets and didn't position the lamps as I would wish.
Instead, I chose to have circa 25 mm wide strips of 3 mm thick steel-plate, welded between both sides of the bumper brackets, flush with the bottoms of the brackets and parallel to the underside trailing edge of the front bumper, which proved to be a very neat and secure form of fog-lamp mounting. This was the same configuration that I later used for the mounting bracket on the offside rear-bumper bracket, to mount the previously mentioned supplementary Lucas Square-8 auxiliary reversing light.
I thus fitted below the front bumper, a matched pair, of 7 inch, Lucas 20-20, homofocal, rally fog lamps (with standard H3 55W quartz halogen bulbs), which were to prove indispensable, over the next few years.
I found that my Lucas 20-20 fog lamps, gave kerb to kerb, lateral illumination, from 5 metres in front of the car and projected a flat horizontal beam (with sharp vertical cut-off), over a distance of at least 50 metres; even in quite thick fog, with virtually no reflected glare.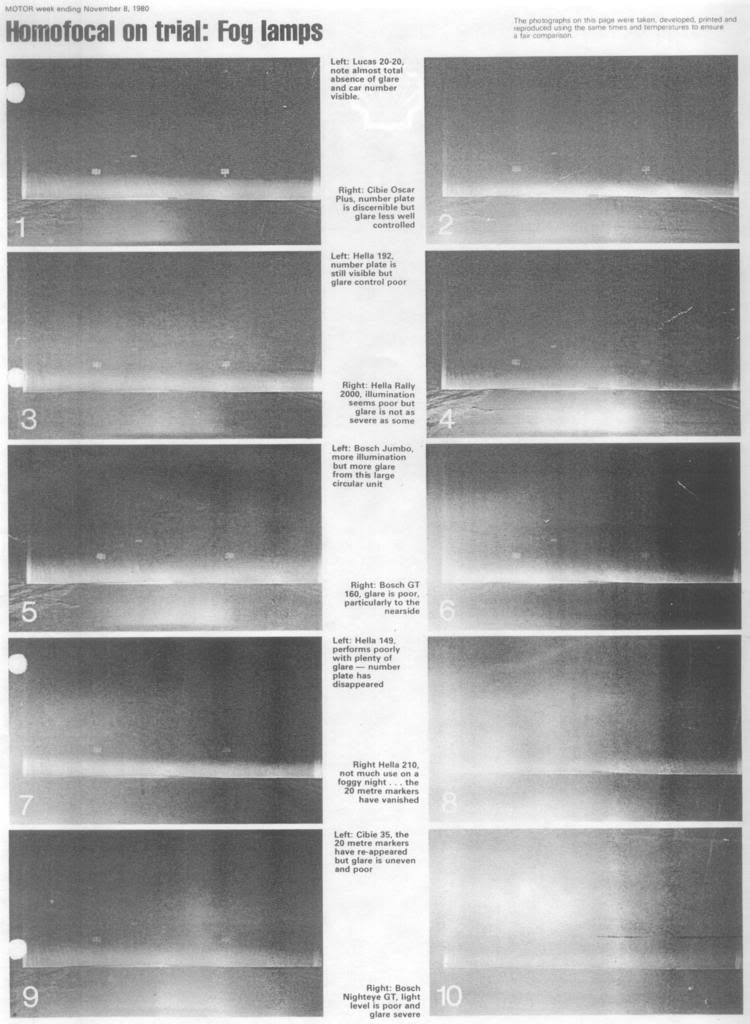 The advantages of good quality fog lamps (used in conjunction with the side lights, but with the headlamps switched off), are particularly noticeable at night, of which I had a graphic demonstration, on my way home from Cranfield to Canvey Island, via the A507, out of Stotfold towards Baldock, one Friday evening, as I approached the large roundabout, forming the junction between the A507 and A1. A car, using dipped headlamps, some distance in front of me, struck the inner kerb of the roundabout, which together with the roundabout's outer kerb, I could clearly see at that moment, with the aid of my Lucas 20-20 fog lamps.
As a consequence of driving relatively long distances in fog, I discovered the insidious effect of a thin film of minute water droplets (similar in size to what would be produced by an atomiser) building up on the external surface of the windscreen. The effect is to give the impression that the fog itself is becoming increasing dense, but more often than not, the decrease in visibility is associated with increasing temporary opacity of the windscreen, as a result of increasing water-droplet build-up.
Hence, it is important to regularly use one's windscreen wipers to clear the water-droplet build-up, for which just a single sweep is usually all that is needed. This was something for which the flick-wipe facility of steering-column mounted windscreen wiper & washer switch (substituted from a Triumph Dolomite), proved to be particularly useful. However this relies on constantly being alert to changing visibility and realising the need to use the windscreen wipers, for which the cognitive burden can be potentially reduced, by having an after-market, rain-sensing wiper-controller, such as the OEDES Raintracker™ RT-50 & RT-50A kit. The following magazine article reviews the associated literature.
Nigel A. Skeet, "Rain Tracker RT-50, Universal, Rain-Sensing, Automatic Windscreen-Wiper Controller", Transporter Talk, Issue 77, June 2005, Pages 38~43.
The positioning and operation of front fog lamps, for vehicles of various vintages, are covered in the Road Vehicles' Lighting Regulations as follows:
The Road Vehicles Lighting Regulations 1989, UK Statutory Instruments 1989, No. 1796
http://www.legislation.gov.uk/uksi/1989 ... tents/made
The Road Vehicles Lighting Regulations 1989, UK Statutory Instruments 1989, No. 1796, SCHEDULE 6
http://www.legislation.gov.uk/uksi/1989 ... ule/6/made
As implied earlier, the electrical circuit I adopted for my front fog lamps, was to take the live feed for the fog-lamp switch, from that for the sidelights. Had I unwisely taken the live feed for the fog-lamp switch, from that for the headlamp dipped-beam, as is required in some countries like the USA, both the front fog lights and headlamp dipped-beams would operate together, negating all of the advantages of fitting the front fog lights!
Given that the two front fog lamps were both fitted with H3 55W quartz-halogen bulbs, requiring a total of at least 9•2 A @ 12 V or as much as 11•0 A @ 14•4 V (i.e. maximum "advisable" regulated alternator voltage, charging a 12 V lead-acid battery), the load-current for the lamps was supplied directly from an independently-fused battery supply, via a 30 A relay, mounted on the left-hand side of the engine compartment, close to the battery.
By the winter of 1982/83, I had already substituted the Dolomite HL adjustable steering column with associated switches and moulded black-plastic nacelle. Having ample space for at least three more switches in this nacelle, I elected to fit a double-throw toggle switch (salvaged second-hand headlamp switch) on the left-hand side of the nacelle, to serve both the front & rear fog lamps.