If you have been mad enough to read my restoration thread, you will have seen that I replaced my gearbox mount to cure a violent judder (very similar to axle tramp) when setting off. Now I was quite disappointed by one aspect of my work, though the judder was cured, the cabin noise was more track day car than smooth cruiser to put it mildly. All of the engine, gearbox and exhaust (which is bolted to the gearbox) noise was so loud that I took everything apart to check my work but without change.
I have a spare mount that whilst old has not yet jellified with oil contamination, and with that you could move the centre by hand in all planes relatively easily though harder to fore and aft. Not so with the replacement mount, I could not get that to move even a jot when it was bolted up and had some weight behind it. So I set about looking for a replacement, and read on here that a Sierra Type 9 mount had been successfully used. They seemed a bit expensive for an experiment, anything from £24 to £45, and needed quite a bit of fettling on the crossmember to enlarge the aperture, so went looking for something else.
A visit to the local motor factors and a rummage through their catalogue came up with something that was not a million miles away from what I needed, and was still being made by the OEM supplier, a Febi 22394 which says on the box "To fit Volvo PKW", total cost £8.
Attachment:
File comment: FEBI 22394 Top view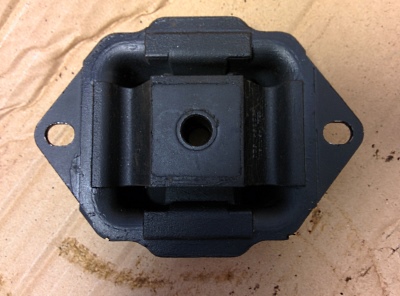 IMG_20151108_135158_s.jpg [ 54.42 KiB | Viewed 2509 times ]
Attachment:
File comment: FEBI 22394 Side view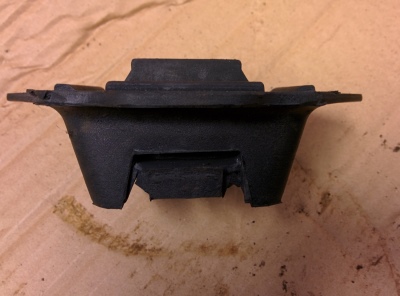 IMG_20151108_135210_s.jpg [ 44.05 KiB | Viewed 2509 times ]
Comparing the Febi with the TKC1044 more closely showed a few differences in dimensions, which I'm sure is not going to surprise anyone who has read this far. Well done for that by the way, this has to be driest thing I've written since my thesis on the the Atacama Desert, which didn't actually happen but I'm using it as a writers device *cough*. With the Febi mount there was give with fingers alone in the fore and aft directions, but nothing left and right, which whilst the opposite of my OEM mount, seemed more logical, very little twist, but allows a little push and pull movement. Fetched my crayons and vernier calliper, and come up with some (un)helpful pictures to show the differences, first dimension shown is for the OEM TKC1044 followed by Febi 22394.
Attachment:
File comment: TKC1044 vs FEBI 22394 side dimensions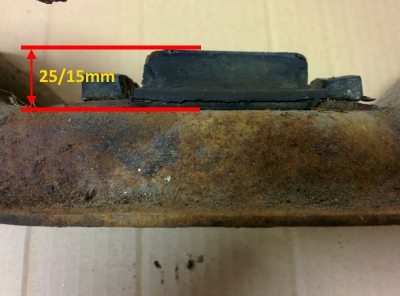 IMG_20151031_164515_s.jpg [ 92.96 KiB | Viewed 2509 times ]
Attachment:
File comment: TKC1044 vs FEBI 22394 top dimensions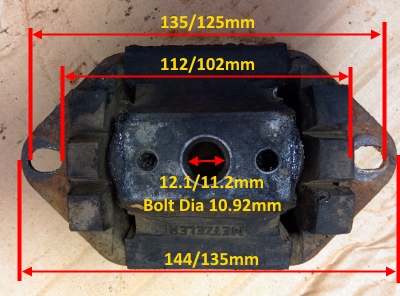 IMG_20151108_135130_s.jpg [ 118.46 KiB | Viewed 2509 times ]
Not wanting to ruin my existing crossmember, plus I could mess around with this idea and keep using the car at the same time, I took the crossmember off my spare gearbox, it was a tad rusty.
Attachment:
File comment: Rusty Crossmember (terrible singer)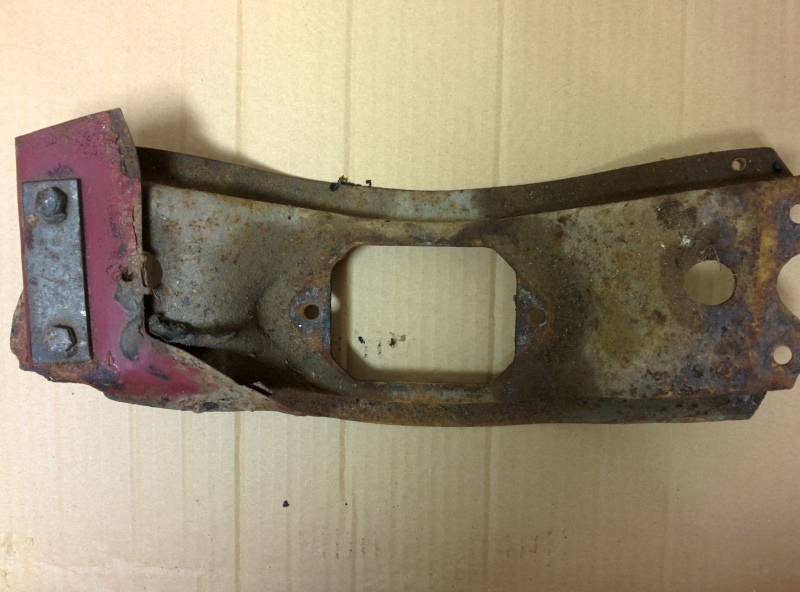 IMG_20151031_164349_s.jpg [ 166.24 KiB | Viewed 2509 times ]
Actually that doesn't look so bad, let's have a look at the other side then.
Attachment:
File comment: Really Rusty Crossmember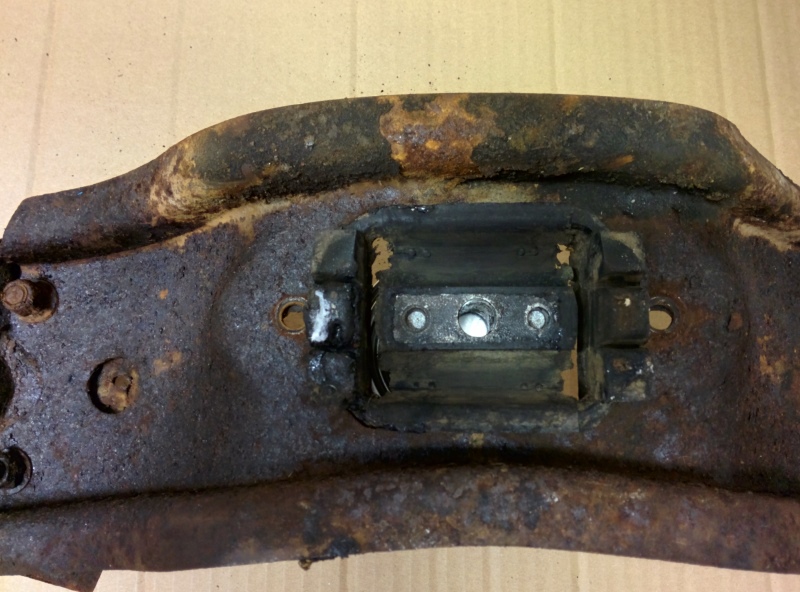 IMG_20151031_164602_s.jpg [ 189.21 KiB | Viewed 2509 times ]
Can't even imagine putting that on my car, it might catch something! Took a walk to Wilkinsons and bought a wire brush for my drill, some rust converter and a rattle can of Hammerite £16, that place can be stupidly cheap sometimes. A little bit of spit and polish and hey presto, one cleaned up crossmember with 5mm elongated mount holes done with a round file.
Attachment:
File comment: Crossmember elongated mounting holes
IMG_20151106_153625_s.jpg [ 101.41 KiB | Viewed 2509 times ]
As the Febi mount height is 9mm lower than the TKC1044 I made some shims up from 40mm flat washers, just needed to drill out the centre with a 12mm drill bit.
Attachment:
File comment: Shims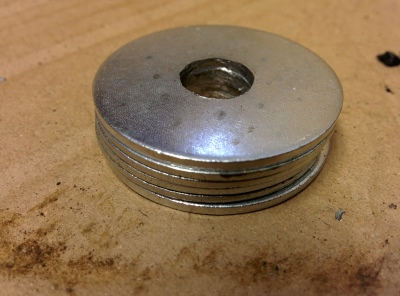 IMG_20151108_141008_s.jpg [ 54.03 KiB | Viewed 2509 times ]
And et voila! The finished crossmember with new mount ready to be bolted up.
Attachment:
File comment: Finished article with FEBI 22394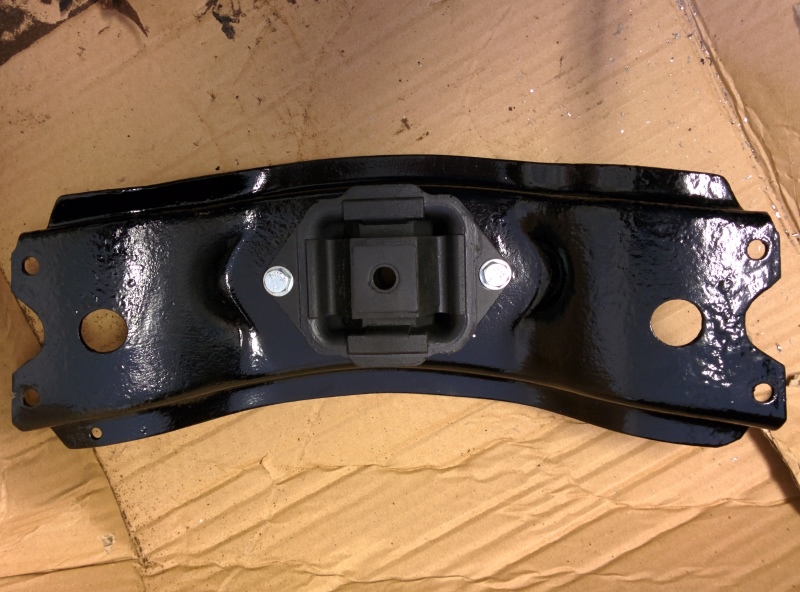 IMG_20151108_141041_s.jpg [ 191.62 KiB | Viewed 2509 times ]
Took the original crossmember off and was dismayed to see that the new TKC1044 mount's aluminium centre had already parted company with the black stuff pretending to be rubber that I think is the same stuff that they seal road joints with. I just plain do not understand how no one else has the issue that I did with it noise wise, maybe I've just been unlucky with a bad batch?!
Bolted on my new crossmember, using only 6mm of shims to get the right height, all looked good and fit together well. Put away the tools, cleaned up and went for a test drive, pulling out of my drive extremely cautiously at first I must admit, but already with just going down the side street it was so much quieter, and so it proved to be as I continued driving with gaining confidence, total and utter bliss, and no judder still.
Good grief I thought, this has actually worked!