Have a VW expansion tank that I'm toying with using for just that Ian/Steve, but I'd like to get it working as intended and then improve rather than mask a fault, if you know what I mean?
Tony, definitely been thankful for the front hinged bonnet for just that reason, together with putting the heater on it's instant extra cooling!
Measured the cores, both the same thickness, 38mm, taken a picture of both and Jeroen's description of a true Sprint radiator do not match either. Starting to look like the previous owner has fitted an 1850 radiator, probably unwittingly so. The car has always ran a bit warm in the summer ever since I got it, okay when moving but there is next to no reserve if stopped in traffic as the fan always cuts straight in, fan also comes on when at motorway speeds when it's very hot outside in some plaintive attempt to cool things down.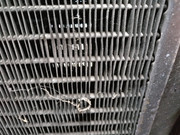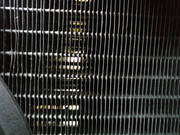 Can you guess which is the 1850 radiator?!