Quote:
Oki doki guys, thanks.
Hollow laughter at #4 in the workshop manual.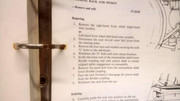 I notice it doesn't mention "remove engine first"

Well there, now you see Haynes and his much maligned manual says
Quote:
"Support the right-hand side of the engine on a jack and remove the engine mounting. Raise the engine a little with the jack to enable the procedure in paragraph 5 to be carried out."
Pays to read both!