I've moved the thread here. It is a technical question and it will get more exposure here.
In theory it is quite simple. The switch has to do 2 things. It isolates the indicator switch while powering all the indicators from a permanent live feed at the same time. This wiring diagram might help to explain it.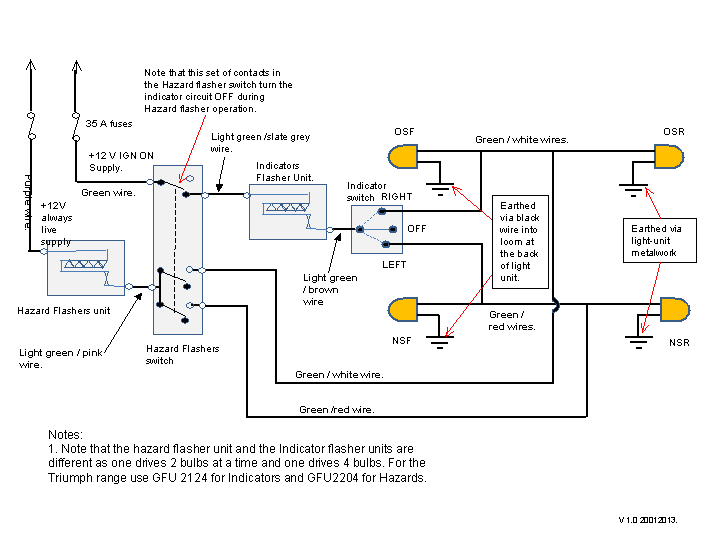 _________________
Toledo Man
West Yorkshire Area Organiser & forum moderator
Meetings take place on the 1st Wednesday of every month at The Hollies Sports & Social Club, 12 Hough Lane, Bramley, Leeds, LS13 3NE
1972
Dolomite 1850 auto (NYE 751L - The rolling restoration)
2008
Citroën C4 Grand Picasso 2.0 HDi Exclusive (MA08 WCL - the modern)
1995
BMW 318i (M265 PNC - Project Bimmer)
2004
Vauxhall Corsa Design 16V (FE04 FKG - not mine! Being revived)
Former stable of SAY 414M (1974 Toledo), GRH 244D (1966 1300fwd), CDB 324L (1973 1500fwd), GGN 573J (1971 1500fwd), DCP 625S (1977 Dolomite 1300) & LCG 367N (1975 Dolomite Sprint) plus 5 Acclaims and that's just the Triumphs!
Check my blog at
http://triumphtoledo.blogspot.com
"There is only one way to avoid criticsm: do nothing, say nothing and be nothing."
Aristotle