---
Urban myth has it that the first Sprints were built badged up as Dolomite 135's, but prior to the official launch of the model it was identified that production tolerances resulted in variations of power output above, and below, the originally intended engine output of 135BHP after which the model was to be named.
This required a name change, and new badges to show the new name (i.e. Sprint), while waiting for the new Sprint badges to be produced it has been said that the 135 Badges on cars already built were covered up with tape, a possible example of this is shown in the photo in this thread (towards the bottom of the page):
viewtopic.php?f=4&t=24255&start=105

If the above is correct I cannot confirm as I do not have first hand knowledge, however three of my 135 badges were purchased from an autojumbler who had a box of various badges. Having heard the story above when I spotted a number of badges the same shape as those used on Dolomites covered in tape (the only ones so covered) I pulled back the tape to see the 135 script.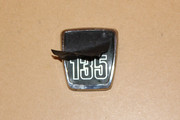 So were Dolomites built as 135's probably, if any were registered as such, I do not know.