History of RNK 957W
(26th June 1980 to 1st April 2019)
Build Date:
26th June 1980
Chassis No:
110562
Registration Mark Issued in:
Luton, Bedfordshire
Registered Owners: 3
- Geoff Robinson (5 yrs), Pat Legge (31yrs) & godson John Polsue (1 yr)
Colour:
Porcelain White
Interior:
Beige
Transmission:
Auto
First Registered:
30th September 1980
Supplying Garage:
Lavender Hill Garage, Enfield
Salesman:
John Metcalfe (proprietor)
Dry Stored:
13 years (2003 - 2016)
Recommissioned:
November 2016
Purchased:
19th October 2017
Present Mileage:
52,820
Triumph Dolomite Sprint RNK 957W was built 26th June 1980 and sold by Lavender Hill Garage (LHG), Enfield on 30th Sept 1980 to Geoffrey Robinson who is now 76 years of age. Geoff traded in a British Racing Green Triumph Dolomite Sprint for RNK, the salesman was the garage owner and personal friend of Geoff's, Jimmy Metcalfe. The garage was established in 1948 and sold many BL cars in its day - he's got lots of stories of work being undertaken to BL cars prior to their owners receiving them. The garage is now run by Jimmy's son and business partner Richard T Moore. Following the collapse of BL it later became a Subaru/Isuzu dealership, but now is independent of any franchise. When Jimmy retired 16 years ago, as a goodwill gesture he gave a portion of the garage to the staff, some of whom are still there today - one of which is Tom Marshall who worked on Pat's Sprint back in the day. Assuming Jimmy retired at 65 that would make him 81 this year.
On supplying the Sprint LHG fitted their usual badge to the lower part of the dash which is hidden away and also fitted their garage key ring which is still on the original keys today.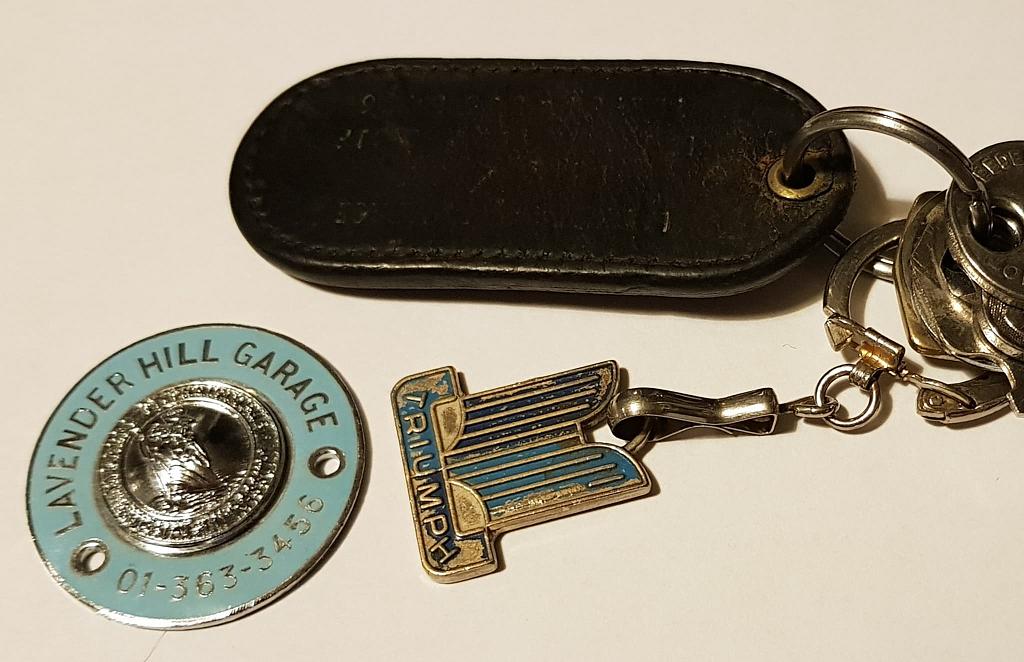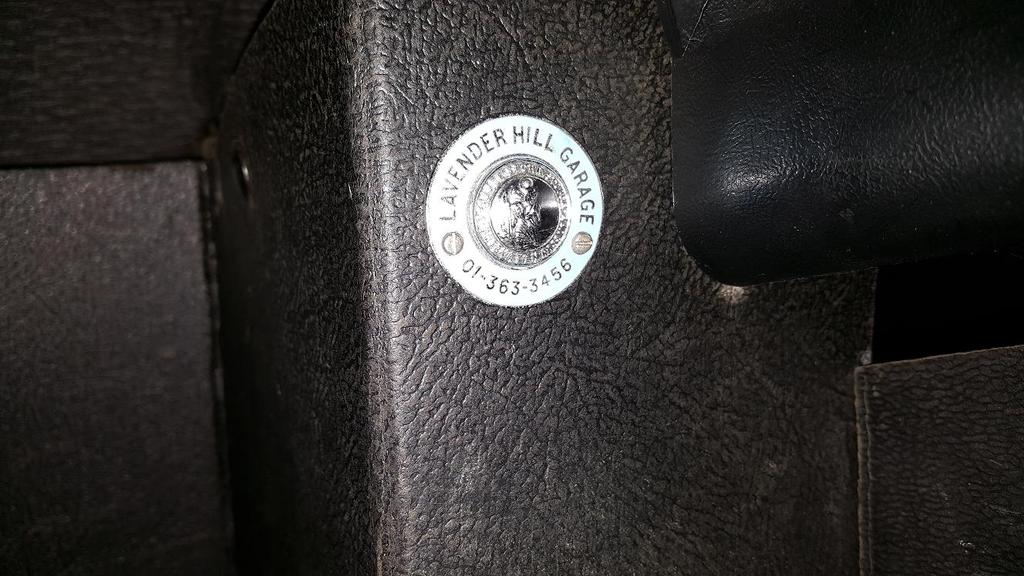 Before Geoff took ownership he requested the sprint be Ziebarted LHG sourced it out to a Ziebart agent leaving the engine bay and boot area free, apart from inside the double skinned panels in the boot area, and inside the bonnet.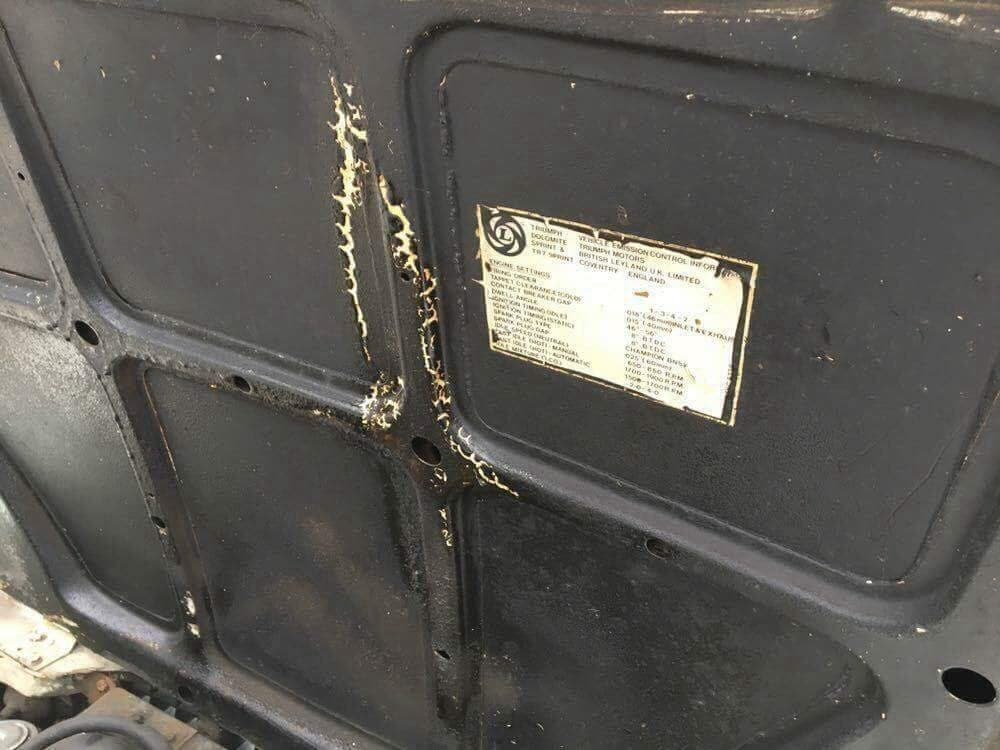 He had a rear aerial fitted even although the car had already been supplied with a front wing aerial - he was concerned about vandalism and also didn't want the inconvenience of having to get out of the car to raise the aerial. He had a full set of mud flaps fitted and also had the two inner headlamps changed to Halogen. After 5 years of ownership he traded her back into LHG.
It was then its long time owner and carer Flight Lieutenant Pat John Legge took ownership at the age of 71, and then godson John Polsue following his passing. When I spoke to Jimmy for the first time he was surprised to learn that Pat wasn't its first owner, so it was through Jimmy I was finally able to contact Geoffrey Robinson. Pat traded in MYL 596L, a blue 1973 Triumph Dolomite 1850. He paid a total of £2,295, getting only £50 for MYL having 68,181 miles on the clock. Pat bought RNK on 5th September 1985 with 26,047 recorded miles. He had a full RAC inspection carried out on Tuesday 20th August which resulted in a long list of mechanical work needed, which LHG undertook prior to sale.
Pat first saw the car on the forecourt on Friday 9th August 1985 and registered his interest after a test drive on Tuesday 13th August. Pat meticulously maintained the car for the next 17 years before sadly passing away on Sunday 11th May 2003 at the aged of 89. Pat was a good customer of LHG said Jimmy Metcalfe, who bought many cars off them, the last being RNK. Jimmy remembers Pat as a medium build chap with white hair and a true gentleman.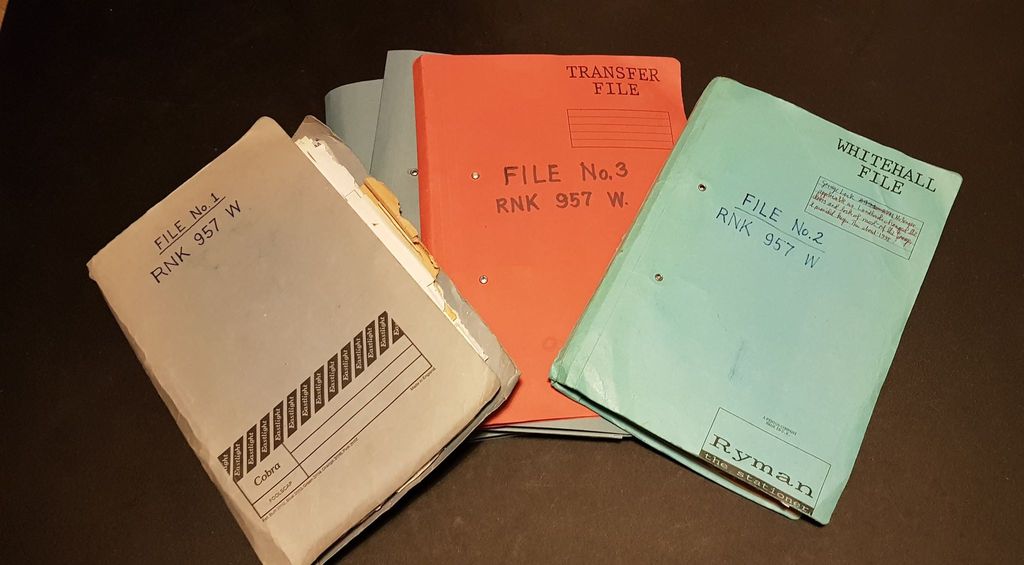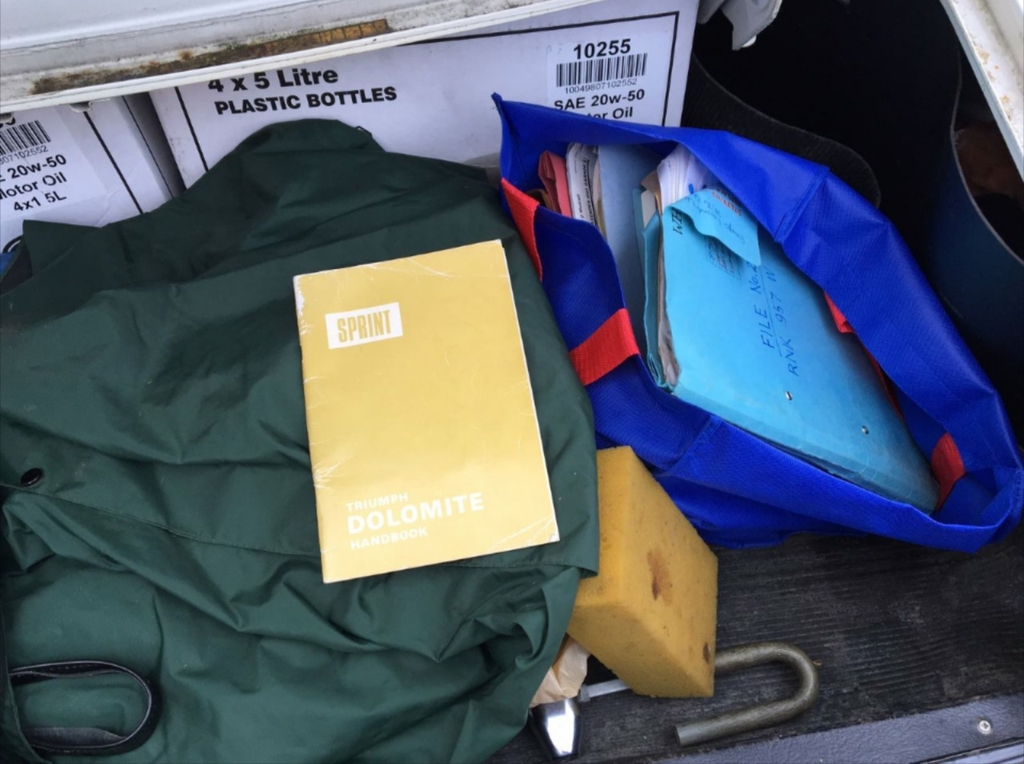 Some of the remedial work Pat had carried out over the years are meticulously recorded in 5 large files, which contains every MOT from new and every receipt, amongst a great amount of other paperwork too - all the work was undertaken by LHG from new up till Pat's passing.
10th November 1988
- rust treated and repainted on the inner face of the NS cill (surrounding the hole which sits close to the rear door thread plate, it's often blanked off with a plug).
11th October 1991
- large amount of gaskets replaced which included the 'cylinder head gasket', and done simply as a precautionary measure at 41, 340 miles, including a full service at a cost of £409.62.
31st March 1992
- cylinder head bedded down, at 41,650 miles.
3rd September 1993
- purchased a new stainless steel exhaust from Rimmer Bros costing £315.70, which is still on the car today and in pristine condition, with the Rimmer's sticker in near perfect condition.
7th September 1993
- exhaust was fitted by LHG at a cost of £86.95.
20th June 1994
- rust treated on the OS front wing, above the outer headlamp and at the bottom of the wheel arch at a cost of £94.00.
4th August 1994
- front NS door was replaced with a new door at a cost of £188, this was bought from TD Fitchett's.
24th April 1996
- new timing chain kit fitted at a cost of £151.68 at a mileage of 50,127.
11th February 1999
- valves to be adapted to suit unleaded fuel, but was told there was no need as they were already capable of handling unleaded fuel.
Apart from regular servicing the above is the only recorded work undertaken to RNK, in a very comprehensive recorded service history, which is testament to the meticulous nature in which he cared for the Sprint.
When Pat passed away the mileage on the Sprint was 52,209. It lay dry stored in Pat's lock up for the following 13 years, and inherited by Pat's godson John Polsue - John believing Pat to have been its only owner too. He maintained the payments on the garage unit to owner's Calder Investments Ltd until 23rd February 2016 when John had Moordale Motors Ltd (MML) recover the car so it could be recommissioned and possibly sold to an enthusiast, as the garage units had been sold to developers and sadly John had no available storage. MML put a fresh MOT on the Sprint following a lot of mechanical work at a cost £4,548.43, the Sprint required no bodywork and that's the condition I bought her in on 19th October 2017 (the photos of which I've already uploaded). The car was MOT'd for the first time on 10th November 2016 (since July 2002) with a mileage of only 52,329. John had to register the car in his name to allow for road tax and subsequently selling, something that John found very hard to do.
Flight Lieutenant Pat John Legge was born in Singapore on 27/11/14, however his passport stated "Scotch". He first worked for the Water Board in Singapore before later joining the Singapore Air Force, he then moved to Australia and from there to San Francisco and later to Canada where he further trained at the "Imperial Flying School" prior to the outbreak of WWII. He left Canada for Britain and already being an accomplished pilot joined Bomber Command and was assigned to 218 (Gold Coast) Squadron - it was then he took command of his first Lancaster Bomber and continued so until the end of the war, needless to say it's uncomprehendable what he must have experienced and witnessed during those long 6 years flying mission after mission - it's so true that "they gave their tomorrow for our today". However, Pat was one of the lucky ones surviving the war and going on to live to the ripe old age of 89. Uploaded are photo's of Pat and his crew with their Lancaster bomber. I found a copy of an insurance form which makes interesting reading.
You can read about Pat Legge and crew here:-
https://218squadron.wordpress.com/fligh ... egge-crew/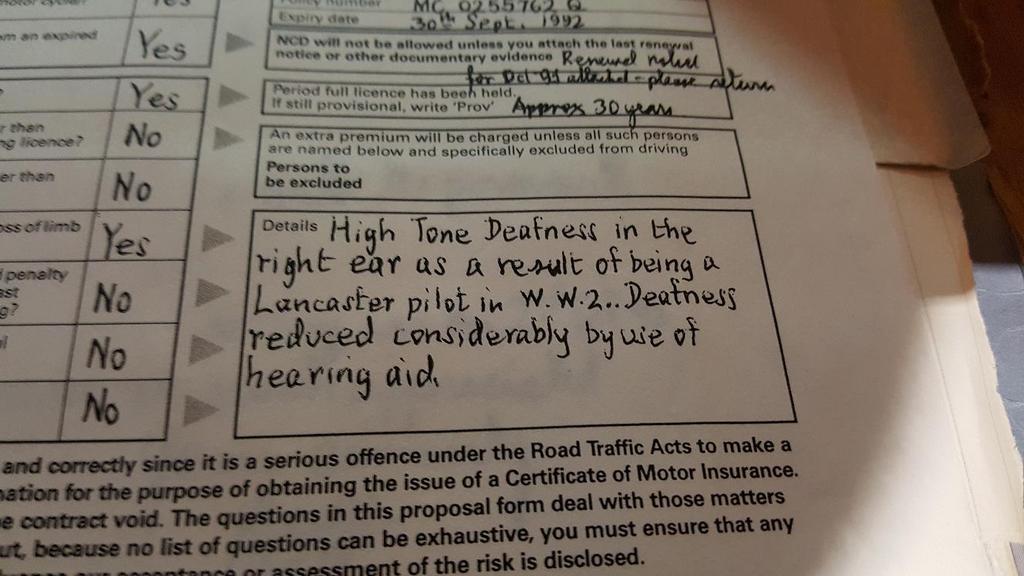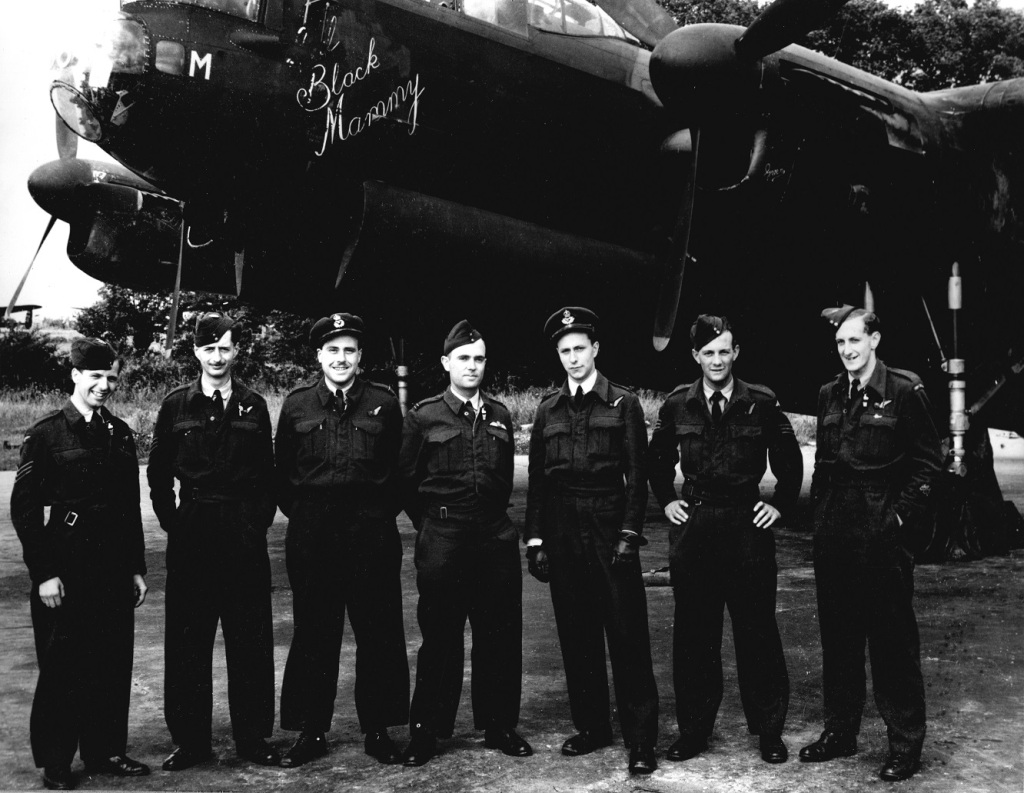 Pat.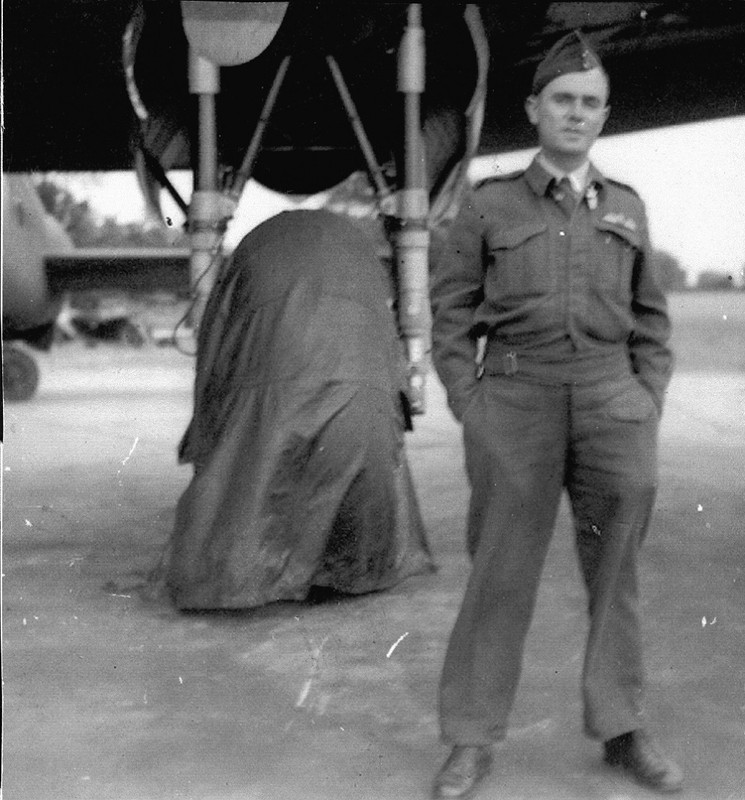 Pat at the controls.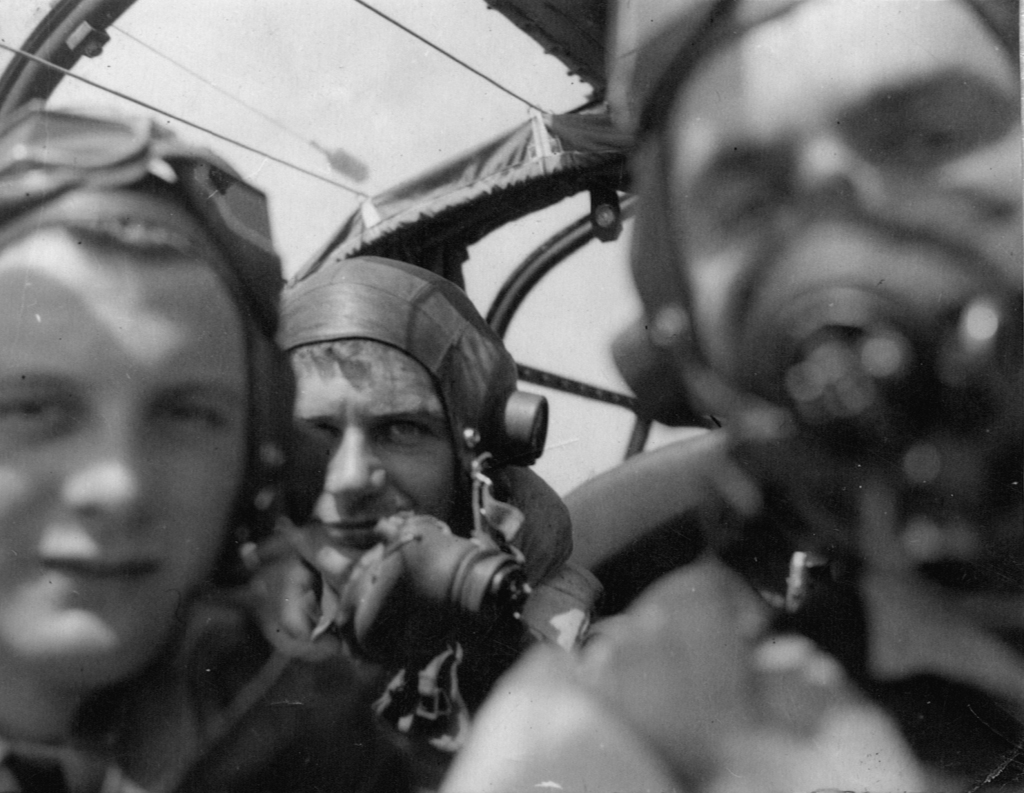 Following purchasing the Sprint and coming to appreciate its outstanding condition I decided I'd give it an external respray to freshen her up, she was professionally resprayed by a local body shop (Hughson's Vehicle Services). It was important to retain its originality so had decided the respray would be the extent of the work carried out, apart from freshening up the chrome bumpers, re-veneering the door cappings and other parts like rubber seals etc (all NOS) - the rest of the car remains totally original like it left the factory and as Pat once owned her. Presently she awaits the return of her front bumper. The interior which is in lovely condition will be valeted prior to refitting, then a fresh MOT. On one of the occasions speaking to Jimmy Metcalfe he asked a number of questions about its originality and was relieved to hear I would be retaining her original, as was John Polsue.
To finally own a sprint after almost 40 yrs of 'Fast Fords', and always wanting to have one, is fantastic - but to drive and hold the steering wheel that the hands of a Lancaster bomber pilot and WWII hero once grasped, is far the greater privilege.
Apologies for the lengthy history of not only the Sprint but also of Pat, but I think his story deserves to be told too.
I'll upload photo's of how the Sprint's coming along later.