Quote:
Happy new all

Can any of you chaps point me in the right way for fitting an 850 header on a Sprint? A photo would be great help or directions for pipe work using a standard Sprint rad.
Any help much appreciated

Many thanks,
Tony.
The top connection is 8mm bore hose from the thermostat housing. A one metre length will suffice.
The outlet is 19mm bore and goes to the bottom radiator hose via T-piece. I route the hose around the back of the engine
using a 45 degree elbow on the tank joined to a one metre length of 19mm hose.
I disagree with James's positioning of the the tank because it is not high enough to clear the engine,
being too low, the low level sensor won't be triggered until after the coolant level has dropped within the engine.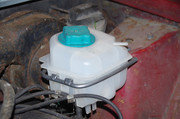 This position takes advantage of the space the bonnet's skeleton allows to get as high as possible.
All the coolant in the tank is above the engine.
Furthermore you can simply fill (or top up) the coolant via the header tank. There is no longer a need for the cap in the thermostat housing.
Ian.
_________________
TDC Forum moderator
PLEASE
help us to maintain a friendly forum,
either PM or use Report Post if you see anything you are unhappy with. Thanks.